Jets News
Teddy Bridgewater gives update on knee injury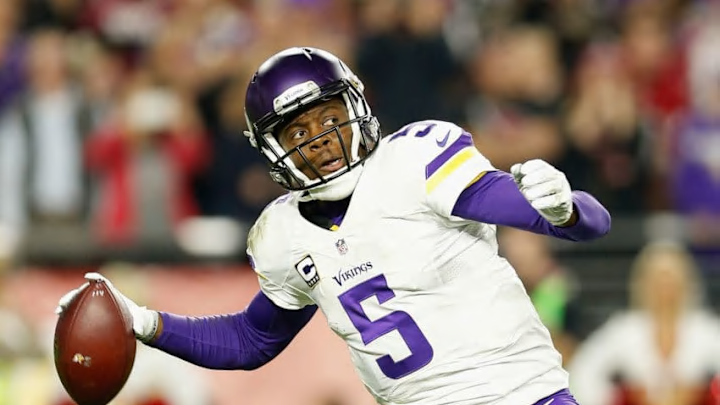 GLENDALE, AZ - DECEMBER 10: Quarterback Teddy Bridgewater #5 of the Minnesota Vikings throws a pass downfield during the fourth quarter of the NFL game against the Arizona Cardinals at the University of Phoenix Stadium on December 10, 2015 in Glendale, Arizona. The Cardinals defeated the Vikings 23-20. (Photo by Christian Petersen/Getty Images)
Quarterback Teddy Bridgewater recently gave an update to the media on the very first day of training camp with the New York Jets.
As the New York Jets began training camp with Sam Darnold holding out due to contract negotiations, all eyes were on the other quarterbacks ready to get to work. Quarterback Teddy Bridgewater made the most out of the opportunity and picked up where he left off from mandatory minicamp.
On his first day of training camp, Bridgewater moved well and displayed no signs of being limited due to his knee. It's a great sight to see considering all the fiasco regarding Darnold's contract, the Jets have options in case something unforeseen happens.
Ideally, the Jets are hoping that Bridgewater plays like he did before the horrific knee injury that made him miss almost two entire years of action. If he plays well enough, he could very well surprise many and be the Jets starting quarterback come Week 1 of the regular season.
More from The Jet Press
On the flip side, if teams start calling general manager Mike Maccagnan to gauge his interest in what it would take to trade for Bridgewater, that could also be a possibility. It might, however, be in the best interests of the Jets to keep Bridgewater around no matter what since again, if something happens to Josh McCown or if Darnold isn't ready, Bridgewater might be their only hope in 2018.
Courtesy of the Media Relations Department of the Jets, here's what Bridgewater said in regards to how his knee is holding up:
On how his knee feels after coming back off of injury…
It's been a journey, it's been a fun journey coming back from my injury a couple of years ago. I'm excited to be where I am today, and I'll continue to look forward to the days ahead.
On is this the best he has felt since he got injured…I don't know if it's the best I've felt, I don't know how to really answer that because I feel good every day. I'm alive. Knowing that I'm here is a great feeling, knowing that we can do something special is a great feeling. I'm excited and I'm looking forward to a couple weeks of training camp.
Hopefully, Bridgewater continues to play well and doesn't have any setbacks in what will be one incredible return to pro football if everything falls into place. Bridgewater has starting experience as it wasn't that long ago that he led the Minnesota Vikings straight to the NFL Playoffs and made some serious noise.
Want your voice heard? Join the The Jet Press team!
The Jets have a very good quarterback situation and no matter how this Darnold contract situation plays out, have someone in Bridgewater preparing to step up if his number is called. Signing Bridgewater continues to be a brilliant decision by Maccagnan as it will be very interesting to see how everything plays out over the next few months.