Draft
NFL Draft 2018: Why is it in Texas?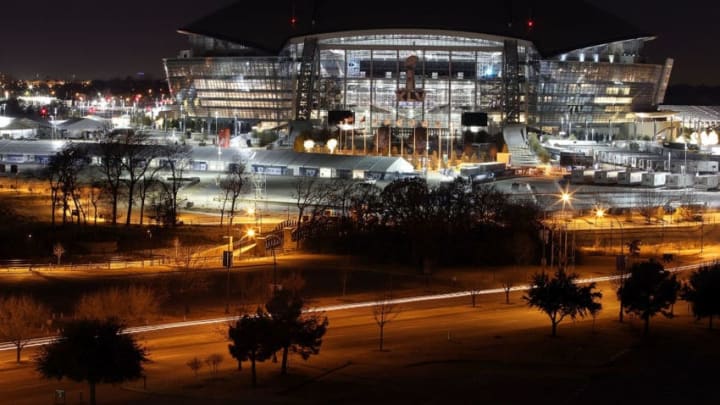 ARLINGTON, TX - JANUARY 26: A view of Cowboys Stadium at night on January 26, 2011 in Arlington, Texas. North Texas will host Super Bowl XLV between the Pittsburgh Steelers and the Green Bay Packers at Cowboys Stadium on February 6, 2011 in Arlington, Texas. (Photo by Ronald Martinez/Getty Images) /
Why is the 2018 NFL Draft being held at AT&T Stadium in Arlington, Texas? Here's how this year's draft found its way to the Lone Star State.
The 2018 NFL Draft will officially be held at AT&T Stadium in Arlington, Texas, home of the Dallas Cowboys. How did this year's draft end up being held in the Big D? Here's how it all came to fruition.
Last year, fourteen cities all gave their bids for the right to host this year's draft. As per Wikipedia, it came down to Philadelphia and Dallas as the two final cities. It ultimately went to Dallas and when the decision was made, it became a decision that will end up in the NFL history books.
This will be the first time in 83 years that an NFL draft will be held at an NFL stadium and is also the first time it's being held in the state of Texas. Talk about a double whammy for this year's draft and especially those in attendance to take in such a great event.
More from The Jet Press
There will be a plethora of events outside and inside the stadium over the three-day event, including the amazing NFL Fan Experience that will be a treat to those planning to attend. It's expected that well over 60,000 people will be watching the draft outside the stadium and partaking in all the activities that await.
It will undoubtedly be a great time for all whether you're inside the stadium or outside taking in the atmosphere created by a lot of football fans that are traveling to be a part of this amazing event.
Just be ready, however, as it's expected a lot of fans that are going are fans of the Cowboys. So if you're representing any other team of the NFC East, consider this your heads up. Aside from that, Texas is a great state as AT&T Stadium will provide a fantastic venue for this year's draft.