Super Bowl 2018 Live Stream: How to watch Super Bowl LII live online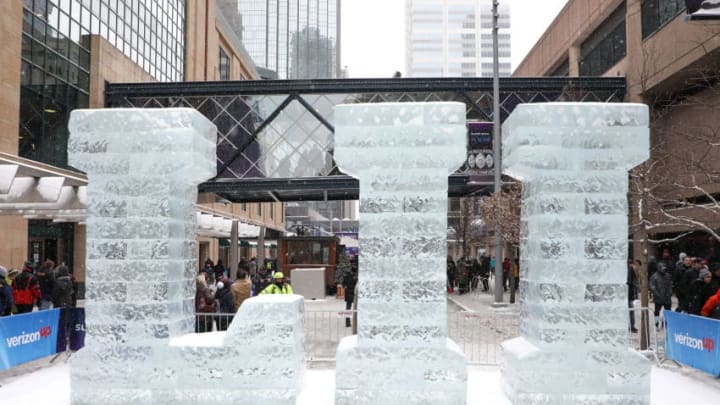 MINNEAPOLIS, MN - FEBRUARY 03: A ice sculpture sits in the Nicollet Mall at the Super Bowl Live event on February 3, 2018 in Minneapolis, Minnesota. (Photo by Michael Reaves/Getty Images) /
If the cable goes out, you're stuck at work or aren't able to watch Super Bowl LII, here's how to watch it live online.
Super Bowl LII is set to kick off later on today. It promises to be a great game between the Philadelphia Eagles and New England Patriots and for all our fellow New York Jets fans, we're all most likely rooting for the other Green & White team.
For those of you that got stuck working today or aren't able to watch Super Bowl LII live as it happens, don't worry as there is a way to check it out. Yes, it's free, legitimate, and you don't have to worry about getting stuck on some crazy expensive subscription once signing up.
Fubo.TV is offering a free 7-day trial if you're unable to watch the big game for whatever reason later on tonight. It's completely free and if you don't like it after the trial, you can cancel it at any time.
They're confirmed to have the game on air and ready to stream live for your viewing pleasure. The best part is Fubo.TV works on all portable devices. So if you want to watch it on your cell phone, you can. If you want to stream it to your laptop and connect it to your television, you can.
More from The Jet Press
It also works on tablets and personal computers at work or home. Ideally, if you want to use the service to see what it's all about and test it out during the Super Bowl, it's quick and easy to sign up. Besides sports, they also have great plans that include your local channels, premium channel packages, and more.
Check out Fubo.TV now and sign up if you'd like to watch Super Bowl LII live as it unfolds. It's a great service and if you've yet to check it out, you can watch the big game immediately during the free trial period.