New York Jets vs. Miami Dolphins: Top 5 players to watch in Week 3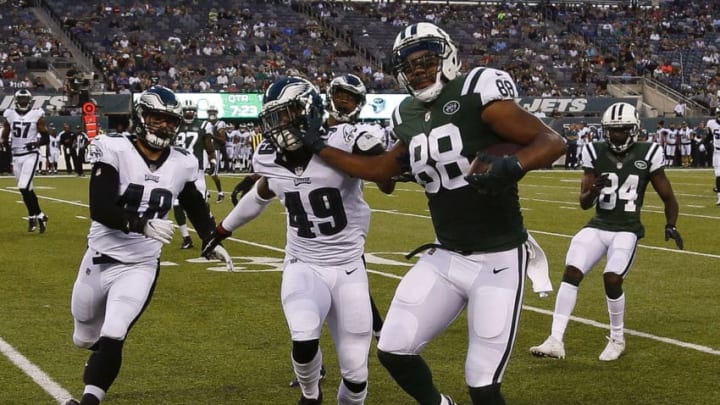 EAST RUTHERFORD, NJ - AUGUST 31: Austin Seferian-Jenkins #88 of the New York Jets fends off Tre Sullivan #49 of the Philadelphia Eagles during their preseason game at MetLife Stadium on August 31, 2017 in East Rutherford, New Jersey. (Photo by Jeff Zelevansky/Getty Images) /
EAST RUTHERFORD, NJ – AUGUST 31: Austin Seferian-Jenkins #88 of the New York Jets fends off Tre Sullivan #49 of the Philadelphia Eagles during their preseason game at MetLife Stadium on August 31, 2017 in East Rutherford, New Jersey. (Photo by Jeff Zelevansky/Getty Images) /
The New York Jets are finally home. They come back to MetLife Stadium to face the Miami Dolphins in Week 3 action.
The first two weeks have been nothing but a disappointment for the New York Jets. Luckily for them, the Miami Dolphins are coming to town, and they have a quarterback who's prone to turnovers. That's a perfect recipe for the Jets who need more possessions to snap out of their offensive funk.
Jay Cutler is also the perfect quarterback to get the defense out of its funk. Cutler has 183 turnovers (interceptions + fumbles lost) in his career. The Jets could gain some confidence playing against Cutler if they can get to him.
The Jets also get Austin Seferian-Jenkins back from his two-game suspension for DUI. A pass-catching tight end was missing from the offense in the first two weeks of the season.
A lot may have to fall into place for the Jets to come away with their first victory of the season. These are the players that will have to get them there.
Next: 5. A veteran taking advantage of turnover prone QB
GREEN BAY, WI – OCTOBER 16: Morris Claiborne #24 of the Dallas Cowboys warms up prior to the game against the Green Bay Packers at Lambeau Field on October 16, 2016 in Green Bay, Wisconsin. (Photo by Hannah Foslien/Getty Images) /
Claiborne isn't known as an interception guy. He's more of a lockdown cornerback who can take away an opposing player when it comes to the football coming his way.
With that said, Cutler has been prone to give the ball to the other team in his career. He has 146 career interceptions, and that includes eight double-digit interception seasons.
Claiborne did well against wide receiver Amari Cooper of the Oakland Raiders. He will have to do the same against Jarvis Landry but go for the turnover at times.
Claiborne will have to be aggressive and go for takeaways in order for the Jets to win. His ability to take the ball away is crucial for a victory.
Next: 4. An entire group of players
4. The front seven
In this case, it's not one player that has to step up. The entire front seven will have to step up against the Dolphins.
As a team, the Jets have 10 tackles for loss, two sacks and only one forced fumble (recovered by the opponent). They will need to do much more against the Dolphins.
They have also allowed 185 yards rushing per game and 5.4 yards per carry. That's certainly not a recipe for success on any level of football, especially in the NFL.
It's not one guy in the front seven that will have to step up. All of them must do better, and must do their jobs in order to win.
Next: 3. The hogs up front
3. The offensive line
As per ESPN's Rich Cimini, the offensive line allowed pressure on half of Josh McCown's dropbacks against the Oakland Raiders. Pass protection must be better if they want to be successful.
The running game was better, averaging 5.0 yards per carry. However, four of the team's 25 runs came from McCown due to that bad pass protection.
McCown needs more time to find open receivers. Additionally, the receivers need more time to get open for this offense to work.
For McCown to open up things downfield, he needs time for plays to develop. If the offensive line gives him time, they can gain more yards per play.
Next: 2. A young wide receiver taking the next step
EAST RUTHERFORD, NJ – DECEMBER 17: Robby Anderson #11 of the New York Jets runs a 40 yard touchdown pass against Bacarri Rambo #30 of the Miami Dolphins during the first quarter of the game at MetLife Stadium on December 17, 2016 in East Rutherford, New Jersey. (Photo by Al Bello/Getty Images) /
The wide receivers have had some issues in the first two weeks. They have had trouble creating separation in one-on-one situations and finding holes in the zone.
More from Jets News
Anderson will have to use his speed and create some separation against the Dolphins for the Jets to even sniff a win. He has the tools to get the job done, and he's going to have to show it.
Right now, teams are stacking the box to stop the run. Anderson will have to break out in this game so the offense isn't so predictable.
If he can put something good on film, opponents will have to respect it. Then, the running game can open up even more, and the team can further develop.
Next: 1. A returning tight end
EAST RUTHERFORD, NJ – AUGUST 31: Austin Seferian-Jenkins #88 of the New York Jets celebrates his touchdown with teammates Jeremy Clark #34 and Chad Hansen #6 of the New York Jets during their preseason game against the Philadelphia Eagles at MetLife Stadium on August 31, 2017 in East Rutherford, New Jersey. (Photo by Jeff Zelevansky/Getty Images) /
Seferian-Jenkins returns from the suspension for his DUI arrest last season. It's perfect timing too, for a depleted Jets tight end group.
Jenkins provides a weapon the Jets haven't had in the first two weeks of the season. He also does something else.
He provides the wide receivers with some much-needed space. His presence alone will create space because teams will have to play less zone than the Jets have been seeing.
Must Read: Jets fans need to have patience during rebuilding process
Also, he helps the run game in multiple ways. Teams can't stack the box because he's a threat on the receiving end, and he's a very good blocker.