Joe Klecko belongs in the Pro Football Hall of Fame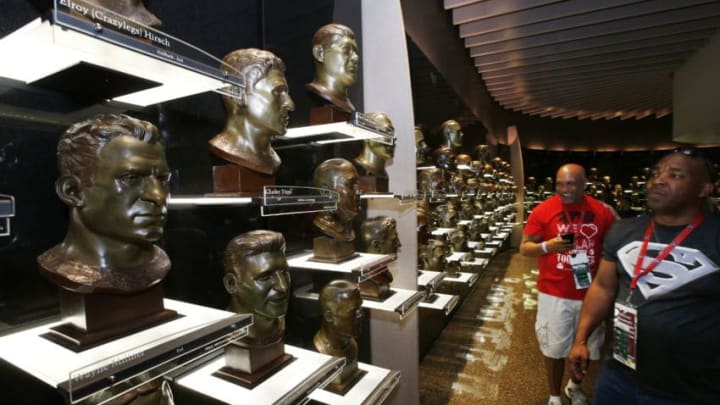 CANTON, OH - AUGUST 9: Fans look at the busts of previous inductees in the Pro Football Hall of Fame prior to the NFL Hall of Fame Game between the Pittsburgh Steelers and Minnesota Vikings at Tom Benson Hall of Fame Stadium on August 9, 2015 in Canton, Ohio. (Photo by Joe Robbins/Getty Images) /
Legendary defensive lineman Joe Klecko of the New York Jets rightfully deserves to be in the Pro Football Hall of Fame but unfortunately, there are some obstacles he faces.
Former New York Jets defensive lineman Joe Klecko should have a bust in Canton at the Pro Football Hall of Fame. Fans want it but at the end of the day, it's not as easy as it seems, regardless of the kind of career a football player has.
According to Sean Saint Jacques of USA Today (via NewYorkJets.com), even another Pro Football Hall of Famer, John Hannah, said this:
"The two guys, in my mind, that were the best all around that I ever played in front of were Howie  Long and Joe  Klecko," Hannah told the Jets' website.
When a lineman the caliber of Hannah says Klecko is great, that means a lot. Many people say that if you can't write the history of the league without a player, then, that player belongs in the Hall of Fame of that league.
There's a problem for Klecko, though. The selection process is the main problem. Only eighteen people make the finalist list, and 15 are former players. The list of eligible players grows every year.
There's also another problem. When you look at the yearly finalists since 1993 (Klecko's first year of eligibility), it's tough to find players to take off those lists and be replaced by Klecko. Additionally, it's tougher to find players who don't belong in over Klecko who did get in since 1993.
More from Jets News
Are you going to bump guys like Randy Moss and Ray Lewis (players who are first year eligible in 2018) off your ballot? You have to weigh everything, especially who isn't in at the moment.
Unfortunately, as much as Klecko deserves to be inducted, it might take even more time before his time finally comes.
Klecko has the credentials to be in the Pro Football Hall of Fame, but we can't just flat-out say he belongs in. It much more than just that he deserves to get in. He will get his time, and that may be on the senior committee, but he will eventually get there.