FanSided: Official announcement of the Fandom 250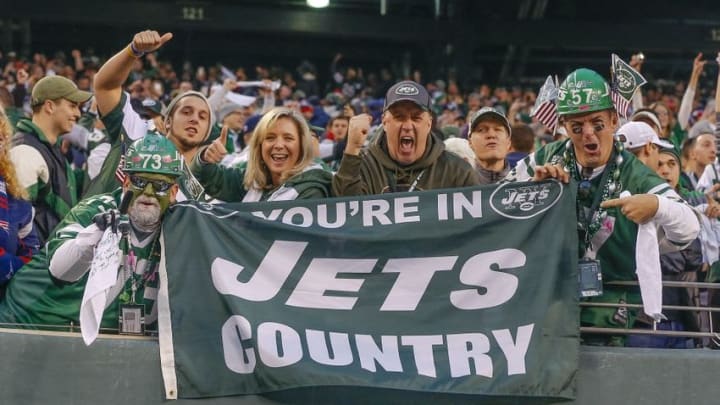 Dec 27, 2015; East Rutherford, NJ, USA; New York Jets fans celebrate an overtime victory over the New England Patriots at MetLife Stadium. New York Jets defeat the New England Patriots 26-20 in OT. Mandatory Credit: Jim O /
FanSided is proud to officially announced the "Fandom 250" which will showcase and rank the best fan bases across the sports world.
(NEW YORK, NY/CHICAGO, IL — Time Inc.'s (NYSE: TIME) FanSided today announced that on December 6, 2016, it will release a ranking of what it considers the best 250 fandoms in the world. The ranking will appear on FanSided.com, the flagship destination of the FanSided Network of more than 300 mobile-first sites and apps centered around sports and entertainment fandoms that was acquired by Time Inc. in May of 2015 for the Sports Illustrated Group. FanSided will begin announcing which fandoms have made the top 250 in batches of ten beginning on October 28th.
Related Story: FanSided Sports Fan of the Year Contest
"As our network of fandom-powered communities has grown in diversity, we've been continuously inspired by the dedication and passion our readers bring to their favorite sports teams, TV shows, movies, athletes, superheroes….the list goes on and on. As such, we decided to shine a spotlight on those passionate fans by taking on the impossible task of ranking the best 250 fandoms in the world," said FanSided co-founder and CEO, Adam Best.
The list will contain not only sports fandoms but also fandoms supporting entertainment, celebrities and more.
"We've all had the debates. Are Red Sox fans better than Yankees fans? Are Ohio State fans more passionate than Alabama fans? But what happens when you introduce Game of Thrones fans into the equation? What about Batman lovers vs. Beyonce fans? How do you compare? It's a tall order but we're going to have fun trying," said FanSided VP of Content, Patrick Allen.
More from The Jet Press
FanSided began as a network of sports blogs but later expanded the network to feature sites dedicated to such topics as popular TV shows, movies, gaming, streaming services and more.
"We not only try to launch new sites to accommodate already established fandoms but we study trends trying to anticipate the next big thing," said Best. "A prime example is our site BeyondWestworld.com which we launched two years before HBO's new hit show Westworld premiered. We want to do our best to anticipate our audience's next obsession so we're not afraid to take some chances. That is one of the reasons why we're so excited about the Fandom 250. It will enable us to invest more time into studying what our readers love and give us the opportunity to recognize the very best fans."
Must Read: Jets using character as means to bounce back in 2016
"The list will be a yearly endeavor," added Allen. "We're giving weight to what is hot now so what has happened in 2016 is very important. That said, fandoms get points for longevity, size and worth as well. Finally, we consider the great equalizer to be what we call the passion barometer. The quality of a fandom is just as important to us as size and longevity. "