Fantasy Football: Top 10 Sleeper Picks for Week 7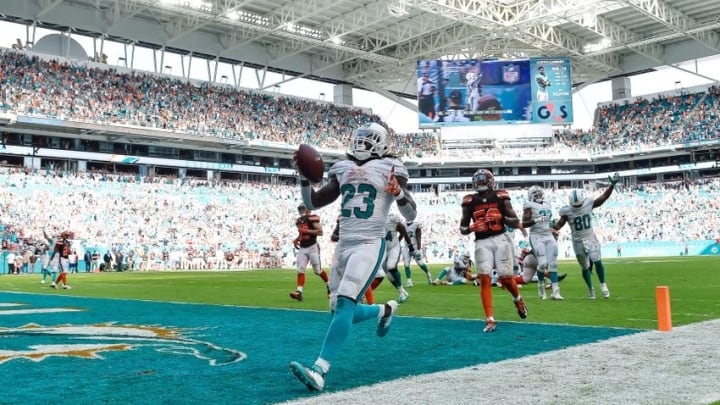 Sep 25, 2016; Miami Gardens, FL, USA; Miami Dolphins running back Jay Ajayi (23) celebrates his game winning touchdown in overtime against the Cleveland Browns at Hard Rock Stadium. Mandatory Credit: Steve Mitchell-USA TODAY Sports /
Heading into Week 7 Fantasy Football, here are the top 10 sleepers to keep an eye on as they enter favorable matchups.
fantasy football /
Sep 25, 2016; Miami Gardens, FL, USA; Miami Dolphins running back Jay Ajayi (23) celebrates his game-winning touchdown in overtime against the Cleveland Browns at Hard Rock Stadium. Mandatory Credit: Steve Mitchell-USA TODAY Sports
It's another week of fantasy football and it's another week with a ton of decisions. In Week 7, we have the Carolina Panthers and Dallas Cowboys on a bye.
Related Story: Fantasy Football: Top 10 Start 'Em Picks for Week 7
You're going to need to fill Cam Newton and Dak Prescott as well as, Greg Olsen, Jason Witten, and Jonathan Stewart to name a few. There are also a few injuries you're going to need to fill this week.
Ben Roethlisberger is expecting to miss four to six weeks due to a needed surgery after injuring his knee in Week 6. You're also going to need to replace Doug Martin who is listed out this week, as well as several questionable players.
With almost half of the season behind us, you can't afford to make careless mistakes in your starting fantasy football lineup. Based on past performances, weekly matchups and fillers needed, I have identified 10 great sleeper options for Week 7. Let's check them out!
Next: 10. His opponent lacks against the run
fantasy football /
Oct 16, 2016; Landover, MD, USA; Washington Redskins running back Matt Jones (31) carries the ball for a touchdown as Philadelphia Eagles linebacker Stephen Tulloch (50) chases in the second quarter at FedEx Field. Mandatory Credit: Geoff Burke-USA TODAY Sports
10. Matt Jones, RB, Washington Redskins
Matt Jones was a hot fantasy football draft pick this season. However, if you drafted him, you would know he hasn't lived up to the expectations.
Aside from his 20 plus points in Weeks 4 and 6, Jones hasn't earned double-digit fantasy football points. But, the past couple of weeks has looked better for Jones owners.
Jones has topped 100-yards in two of his last three games. This week, Jones takes on the Detroit Lions who rank 20th against the run.
Expect Jones to have a productive week. This is the week to take a chance with him.
Next: 9. A Charger ready to bounce back after last week
9. Philip Rivers, QB, San Diego Chargers
Philip Rivers has consistently earned owners over 20 fantasy football points per game; in some weeks he earned well over 30. However, his Week 6 bust lands him on this sleeper list.
Last week, Rivers completed 18-of-29 for less than 180 yards and a touchdown. Not only was it his worst game of the season but, he barely earned 10 fantasy football points in some leagues.
This week, Rivers will look to put last week's fail behind him as he takes on the Atlanta Falcons. The Falcons have offered opponents 14 passing touchdowns in their last six matchups.
Surprisingly, Rivers isn't owned in 100 percent of leagues and may still be available. This week's performance will definitely put him back on top.
Next: 8. This running back is a true sleeper this week
fantasy football /
Aug 20, 2016; Jacksonville, FL, USA; Jacksonville Jaguars running back Chris Ivory (33) runs during the first quarter of a football game against the Tampa Bay Buccaneers at EverBank Field. Mandatory Credit: Reinhold Matay-USA TODAY Sports
8. Chris Ivory, RB, Jacksonville Jaguars
Chris Ivory has been very quiet this season. He looked good during preseason, and that was the last anyone had heard of him because T.J. Yeldon was Jacksonville's main workhorse.
That was until last week! Ivory rushed 11 times for 32 yards and a touchdown; Yeldon only had six carries.
Now, I don't expect this to happen on a weekly basis but, this week Ivory takes on the Oakland Raiders. The Raiders have seen better days and are struggling to stop the run as they now rank 30th in the league.
Even with Ivory sharing field time, he has the chance to hit almost 50 yards and a touchdown. He's a true sleeper in this week's matchup.
Next: 7. A Raven ready to step up
fantasy football /
Oct 16, 2016; East Rutherford, NJ, USA; New York Giants corner back Janoris Jenkins (20) breaks up a pass in the end zone intended for Baltimore Ravens wide receiver Mike Wallace (17) during the third quarter at MetLife Stadium. Mandatory Credit: Brad Penner-USA TODAY Sports
7. Mike Wallace, WR, Baltimore Ravens
As a New York Jets fan, the new fantasy football trend breaks my heart; if a receiver is playing the Jets, he is a must start. That is the case with Mike Wallace.
Wallace hasn't been the most consistent fantasy receiver this season. However, with Steve Smith  injured, Wallace's workload has increased.
Last week, he had his best fantasy outing since Week 2. He completed 4-of-9 targets for almost 100 yards.
And, his weekly matchup against a poor Jets secondary will only benefit him and fantasy owners. In the first five games of the season, four receivers scored a touchdown and completed 90 yards.
How can you not start him this week?
Next: 6. This receiver has taken a back seat this season
fantasy football /
Oct 16, 2016; Detroit, MI, USA; Detroit Lions wide receiver Golden Tate (15) runs after a catch for a touchdown during the fourth quarter against the Los Angeles Rams at Ford Field. Lions won 31-28. Mandatory Credit: Raj Mehta-USA TODAY Sports
Everyone loves Golden Tate. Well, that is unless you own him in your league. With Calvin Johnson retired, Tate had an opportunity to be great, but he hasn't shown greatness until recently.
Up until last week, Tate consistently earned less than 10 fantasy football points per game. There were some weeks he didn't even earn five.
Then, out of nowhere, Tate has his best career game in Week 7. He completed 8-of-10 passes for 165 yards and a touchdown; he earned over 35 points in some leagues.
This week, Tate plays the Washington Redskins who are allowing less than 250 passing yards per game. They also have only allowed three passing touchdowns in their last five games.
But, that's what makes Tate a sleeper! After last week's career-high game, expect him to keep the momentum going.
Next: 5. Keep an eye on this Redskin
fantasy football /
Oct 16, 2016; Landover, MD, USA; Philadelphia Eagles safety Malcolm Jenkins (27) intercepts a pass in front of Washington Redskins tight end Vernon Davis (85) in the second quarter at FedEx Field. Mandatory Credit: Geoff Burke-USA TODAY Sports
5. Vernon Davis, TE, Washington Redskins
As for many tight ends, you just never know what to expect from Vernon Davis. Especially, because he falls short to Jordan Reed in targets.
After Reed missed last week's game due to a concussion, we finally saw a glimpse of the Vernon Davis we all remember. He had 50 yards on two targets and a touchdown.
If Reed suits up this week, Davis' value will decrease. However, Reed didn't practice and may be held out another week after Davis' Week 6 performance.
Look for Davis to have another good week against the Detroit Lions who have been anything but great this season.
Next: 4. His opponents give the 31st most points to the position
fantasy football /
Oct 2, 2016; London, United Kingdom; Jacksonville Jaguars wide receiver Allen Robinson (15) is defended by Indianapolis Colts cornerback Vontae Davis (21) in the third quarter at Wembley Stadium. The Jaguars defeated the Colts 30-27. Mandatory Credit: Kirby Lee-USA TODAY Sports
4. Allen Robinson, WR, Jacksonville Jaguars
Allen Robinson is as inconsistent as they come. One week he earns 18 fantasy football points and another week he earns five.
This is definitely not what owners want to see from a player whose owned in 100 percent of fantasy leagues. Last week, he only completed half of his six targets for 49 yards; he also was the cause and effect of an interception.
This week's matchup against the Oakland Raiders makes it almost impossible to not start him. The Raiders have given the 31st most points to the position this season.
If there was ever a week to put all of your trust into Robinson it's Week 7. Look for him to explode in this week's matchup.
Next: 3. This tight end has been a season long bust
3. Cameron Brate, TE, Tampa Bay Buccaneers
Cameron Brate has been another fantasy football bust this season. After the Tampa Bay Buccaneers released Austin Seferian-Jenkins, we expected to see a little something come from this tight end.
Week 3 was the only week he earned over 10 fantasy football points. During his last game, he only completed 1-of-3 targets for 38 yards.
He doesn't offer every week fantasy value but, if he gets the right matchup like we see in Week 7, you have to jump on the opportunity.
Next: 2. Last week this quarterback had two interceptions
fantasy football /
Oct 16, 2016; Landover, MD, USA; Washington Redskins quarterback Kirk Cousins (8) looks on against the Philadelphia Eagles during the second half at FedEx Field. Mandatory Credit: Brad Mills-USA TODAY Sports
2. Kirk Cousins, QB, Washington Redskins
I have to admit, I love Kirk Cousins, and when I get to add him to any list other than my sit 'em list, I get excited! Cousins has literally earned double-digit fantasy football points every week except Week 5 where he barely earned 10 in some leagues.
Cousins has scored higher than his projected points in at least half of his matchups this season. Last week, Cousins completed 18-of-34 passes for a little over 260 yards; he also had two touchdowns and two interceptions.
This week the Redskins take on the Lions whose secondary is 23rd in the league. If Davis made the sleeper list, why not add his quarterback?
Look for Cousins to have a 300-yard game with a pair of touchdowns against the Lions poor secondary.
Next: 1. You have another chance to start last week's biggest boom
1. Jay Ajayi, RB, Miami Dolphins
If you didn't start Jay Ajayi last week that means one you didn't read my Week 6 fantasy football sleepers list and two, you should be ashamed of yourself for losing out on those fantasy points.
Ajayi hasn't earned double-digit fantasy points in any of his outings this season; until last week's total domination!  He rushed 25 times for over 200 yards and two touchdowns.
He literally earned 50 fantasy football points in some leagues. The best part is everyone missed out because he's only owned in about 50 percent leagues.
Must Read: Geno Smith won't magically fix glaring issues of Jets
Even with Arian Foster back in the mix, it was Ajayi's game. After last week's performance, we can expect to see the use of Ajayi continue, especially against the Buffalo Bills wishy-washy run defense.