Brandon Marshall teams up with NYDE for big donation to H.S. football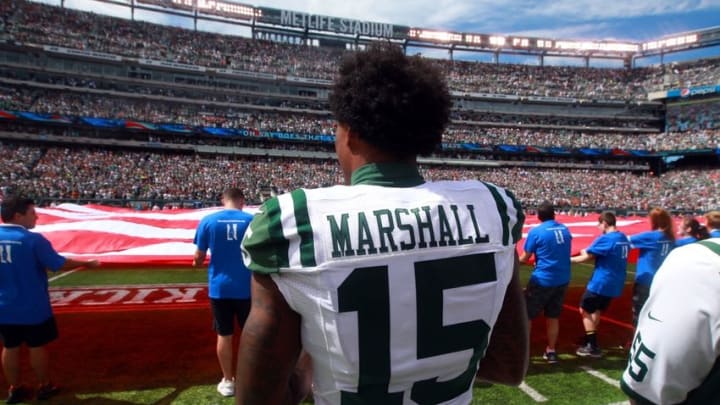 Sep 11, 2016; East Rutherford, NJ, USA; New York Jets wide receiver Brandon Marshall (15) stands for the national anthem before a game against the Cincinnati Bengals at MetLife Stadium. Mandatory Credit: Brad Penner-USA TODAY Sports /
Wide receiver Brandon Marshall of the New York Jets has teamed up with the NYC Department of Education to announce a $100K donation to PSAL High School football.
We here at The Jet Press would like to give some major recognition to the New York Jets as well as wide receiver Brandon Marshall for their generous donation to help benefit high school football athletes in the public school system. It goes a very long way to help develop future NFL stars and keep them safe throughout their development. Below is the official transcript of this donation, courtesy of the Media Relations Department of the Jets:
Related Story: Jets need to keep it simple in the red zone
The New York Jets and New York City Department of Education announced details of a $100,000 donation to the Public Schools Athletic League (PSAL) to support high school football. This donation will help recondition helmets in the PSAL, launch a new football program at A. Philip Randolph Campus High School and provide USA Football Heads Up coaching certification. Jets president Neil Glat and wide receiver Brandon Marshall presented the check for $100,000 from the team to the PSAL and launched PROJECT PREVENT™ – Youth Mental Health Training for Athletes through his foundation, PROJECT 375, and LUCID.
Beginning in 2005, the Jets have provided an annual matching grant with the NFL Foundation to support the PSAL's football programs by reconditioning helmets and creating 14 new and developmental football teams. A. Philip Randolph Campus High School will start as a developmental program in 2016, compete at a junior varsity level in 2017 and both a junior varsity and varsity schedule in 2018. In addition, the Jets provide funding for PSAL coaches to become USA Football Heads Up certified.
"We are proud to continue our commitment to youth football in New York City," said Jets president Neil Glat. "This grant will assist thousands of young athletes at all levels to participate in football and experience the benefits of athletics."
Marshall addressed the A. Philip Randolph High School football team and introduced PROJECT 375's PROJECT PREVENT™, which responds to the needs of children and adolescents by introducing technology driven support through LUCID, a mental training app that lends advice and meditation exercises to athletes and by providing parents, teachers and staff members with Youth Mental Health First Aid training. ThroughPROJECT PREVENT™, Marshall, and LUCID will gift season-long licenses for the app to all high school football teams in the PSAL. Marshall will visit additional schools throughout the season to promote PROJECT375's message.
More from The Jet Press
"Football teams provide rewarding opportunities for students to be active while helping to build strong school communities across the City," said Donald Douglas, Executive Director of the PSAL. "We are grateful to the Jets and the NFL for their generous donation providing equipment and training for teams, and we look forwarding to continuing our long-standing partnership."
"I'm overwhelmed with joy that PROJECT 375 is now in a position to help our youth reach their full potential," said Jets wide receiver Brandon Marshall. "We believe technology driven support through Lucid is an accessible, affordable and educational application that will be extremely beneficial to students. I'm so happy that I can share this platform with the world because I see the benefits every day. We must strengthen our mind the same way we do our body and help youth proactively take charge of their own mental fitness."
More than 30,000 student-athletes, both boys, and girls participate in the PSAL, with many playing multiple sports. In addition, more than 200 high schools participate, competing in 28 varsity sports and nine junior varsity sports represented by more than 2,400 teams.
About Jets Foundation
The New York Jets take great pride in a long-standing, year-round commitment to our community. Programs funded by the New York Jets Foundation look to positively influence the lives of young men and women in the tri-state area by promoting fitness, supporting youth football and preventing bullying, particularly in disadvantaged communities. From launching football teams at urban high schools to urging students to be active for at least 60 minutes every day to fostering positive school environments, the New York Jets invest in programs that make a difference in the lives of others. In addition to our focus on youth development, the Jets support the efforts of the Lupus Research Alliance and numerous established charitable organizations and causes sponsored by the NFL.
Must Read: Todd Bowles preaches accountability to Jets after loss
About PROJECT 375
Founded in 2011 by New York Jets wide receiver Brandon Marshall and his wife Michi, PROJECT 375 is a national non-profit focused on early intervention and prevention of mental health disorders in children and adolescents.  With offices in New York City and Chicago, PROJECT 375 responds to these needs by introducing technology driven support and by providing parents, teachers and staff members with Youth Mental Health First Aid Training.  The foundation has appeared on nationally syndicated television shows such as The View and Inside The NFL on Showtime, as well as local news outlets throughout New York and Chicago. In 2015, PROJECT 375 along with its founders Brandon and Michi Marshall, received the Child Mind Institute Change Maker Award which celebrates people and organizations that are creating real, meaningful change for children struggling with mental health disorders. For more information, please visit www.PROJECT375.org and follow us on Facebook, Twitter, and Instagram @PROJECT375.