Fantasy Football: Top 5 players to acquire in Week 3 waiver wire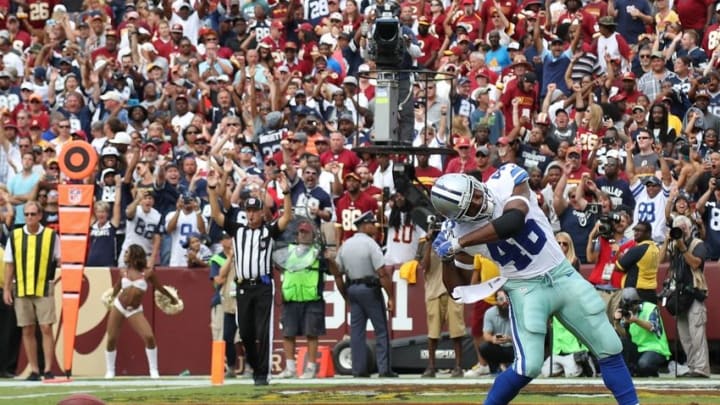 Sep 18, 2016; Landover, MD, USA; Dallas Cowboys running back Alfred Morris (46) celebrates after scoring the go-ahead touchdown against the Washington Redskins in the fourth quarter at FedEx Field. The Cowboys won 27-23. Mandatory Credit: Geoff Burke-USA TODAY Sports /
Heading into Week 3 Fantasy Football, here are the top five players to quickly acquire via the waiver wire.
fantasy football /
Sep 18, 2016; Landover, MD, USA; Dallas Cowboys running back Alfred Morris (46) celebrates after scoring the go-ahead touchdown against the Washington Redskins in the fourth quarter at FedEx Field. The Cowboys won 27-23. Mandatory Credit: Geoff Burke-USA TODAY Sports
Imagine you're stuck in the middle of the ocean and you were hoping to find a reliable, safe, and sturdy life saver. That's exactly what the waiver wire in fantasy football is like.
Related Story: Fantasy Football: Top 10 Start 'Em Picks For Week 3
The only thing is that sometimes most of us don't always find that player because we don't know how to search. Thankfully we all have a subconscious.
Week 2 was rough for a lot of fantasy owners. Whether you lost Adrian Peterson, Danny Woodhead, Jonathan Stewart, or Arian Foster, to name a few, it couldn't have been easy dealing with these injuries. Imagine owners who have two or more of the injured players on their teams. They are crawling to the waiver wire hoping no one claims the players they seek. Luckily, there are other players that could potentially pick up the slack for you, and may very well make you forget about your woes.
Without further ado, here are the top five players you should be gunning for even if you don't have the main starters.
Next: 5. With one man down, another one emerges
Sep 18, 2016; Charlotte, NC, USA; Carolina Panthers running back Fozzy Whittaker (43) runs the ball during the second quarter against the San Francisco 49ers at Bank of America Stadium. Mandatory Credit: Jeremy Brevard-USA TODAY Sports
It's a little crazy to suggest putting in a claim for a running back that's only scored two touchdowns in his career, with the second one being this past Sunday. However as long Jonathan Stewart is going to be out with a hamstring injury, we saw in Week 2 that Whittaker is capable of taking on a full workload when called upon.
The 27-year old rushed for 100 yards and scored a touchdown on 16 carries against the San Francisco 49ers.
Granted it was against a soft 49ers run defense, but it was still assuring to see this kind of production from a backup in limited action.
There's no guarantee that this level of production will continue considering that fellow teammate, Cameron Artis-Payne, is also in the mix to see some work. Artis-Payne has missed the first two games of the season for non-injury related reasons, but could see his role change.
Nevertheless, given that Whittaker showed capability and prospered in the opportunity, it makes more sense that head coach Ron Rivera would go with the hot hand heading into Week 3. It's too risky to not do so.
Next: 4. Another fish looking to avoid the hook
fantasy football /
Sep 18, 2016; Foxborough, MA, USA; Miami Dolphins running back Kenyan Drake (32) carries the ball during the fourth quarter against the New England Patriots at Gillette Stadium. The New England Patriots won 31-24. Mandatory Credit: Greg M. Cooper-USA TODAY Sports
This Dolphins' backfield is a tough cookie to crack. Through two games, their running backs have rushed for 134 yards on 36 attempts. That's an average of 67 yards per game or 4.7 yards per carry, which ranks them 27th in the NFL for rushing offense.
They open their season on the road against two top formidable run defenses against the Seattle Seahawks and New England Patriots, so these stats could be a bit miscued. Still, it's a bit risky to gamble on either tailback considering that they are a pass-first team, and will probably have to throw a lot more to make up for the loss of Arian Foster.
We saw Kenyan Drake take advantage of his two carries by rushing for 12 yards and a score.
He also caught two short passes for six yards. It was interesting to see him get the goal-line carry in the fourth quarter considering Jay Ajayi was healthy and capable of doing the job.
Meanwhile, Ajayi rushed for 14 yards on five carries, caught for 31 yards on four receptions, and lost a fumble. If it had to be betted on, it seems that Ajayi is the favorite to lead the way. However considering he was literally sent home by his head coach in Week 1 for complaining about not being the starter, and not getting a red zone opportunity, Drake may very be the guy in that pack. Don't be surprised if that happens.
Next: 3. This former stud running back refuses to be forgotten
The forgotten man in that running back group actually saw action in Week 2 against the Washington Redskins. The 27-year old tailback saw five carries for seven yards and score.
What's interesting here is that he saw the rest of the workload after rookie Ezekiel Elliott fumbled for the second time.
Elliot was eventually benched in favor for a more seasoned veteran like Morris to handle the pressure.
Elliott is still expected to be the starter and see regular work heading into Week 3, Marc Sessler of NFL.com reports. While Morris may not see the regular as it stands, Elliott owners, or anyone looking to stash high-potential players for that matter, should pay close attention to this situation. Morris is the clear-cut backup to Elliott, and could see more workload if Elliott's struggles continue.
Next: 2. Even without Romo, he's still productive
Sep 11, 2016; Arlington, TX, USA; Dallas Cowboys wide receiver Cole Beasley (11) bobbles an incomplete pass against the New York Giants at AT&T Stadium. Mandatory Credit: Erich Schlegel-USA TODAY Sports
The 27-year old wideout has been one of rookie quarterback Dak Prescott's favorite targets through two games. Beasley caught for 65 yards, eight receptions in Week 1, and 75 yards on five catches in Week 2.
While he's still looking for the end zone, and Dez Bryant still being the No. 1 option, he's proving to be a reliable option for Prescott.
Beasley may be more suitable for PPR leagues, given the number of receptions he's getting. But if he begins to find the end zone that could certainly change in a hurry. He was always a consistent part of that offense, so it's no surprise to see him putting up this kind of production.
Next: 1. The numbers never lie and this wide receiver is proving it
fantasy football /
Sep 20, 2015; Landover, MD, USA; Washington Redskins wide receiver Jamison Crowder (80) returns a punt against the St. Louis Rams during the first half at FedEx Field. Mandatory Credit: Brad Mills-USA TODAY Sports
The 23-year old wideout out of Duke has been a consistent piece in the Redskins' offense through two games. He's caught six receptions in both games. 58 receiving yards in Week 1 and 39 with a touchdown in Week 2.
It appears that quarterback Kirk Cousins has developed a rapport with Crowder and should only develop further as the season progresses.
DeSean Jackson, Pierre Garcon, and Josh Doctson are all in the mix to see consistent targets, with the first two being ahead of Crowder on the depth chart. However, it's encouraging to see Crowder get these looks as it votes confidence from his head coach and quarterback.
Must Read: Fantasy Football Start or Sit Week 3: RB Matt Forte
An even more interested detail is that Crowder has tied with tight end Jordan Reed for the most receptions (12) on the team. He has been targeted the most (18) as well. He's widely available and is a nice stash for a breakout candidate. Don't sleep on him.