Brandon Marshall refuses to let injury hinder him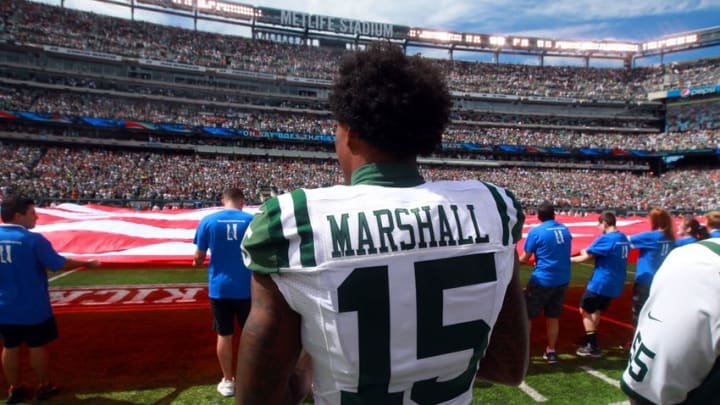 Sep 11, 2016; East Rutherford, NJ, USA; New York Jets wide receiver Brandon Marshall (15) stands for the national anthem before a game against the Cincinnati Bengals at MetLife Stadium. Mandatory Credit: Brad Penner-USA TODAY Sports /
In Week 2 with the New York Jets, wide receiver Brandon Marshall got a scare when he fell awkwardly on his knee. As always, it's mind over matter as he won't let it hinder him.
It's no secret that wide receiver Brandon Marshall is indeed a warrior. His never give up mentality is what truly what makes him special as a complete football player. In the Week 2 matchup between the New York Jets and Buffalo Bills, Marshall hit his knee awkwardly as it looked like his season could have very well been over due to how he landed.
Related Story: Jets dodge bullet as Brandon Marshall escapes serious injury
In the grand scheme of things, Marshall knows that it's important he's in the starting lineup every single week with his Jets. Not only is he a catalyst on offense but does so much to help make everyone around him thrive.
Including No. 3 wide receiver Quincy Enunwa who has enjoyed being able to pick apart defenses due to all eyes being on Marshall and Eric Decker. In an article written by Rich Cimini of ESPN, Marshall knows if he so much takes a game or two off, he might not have a job upon return. Here is what he said:
"If I take any time off, I might not have a job," said Marshall, remembering how he leapfrogged injured veterans Rod Smith and Javon Walker with the Denver Broncos in 2007. "I can't let little Quincy take my spot right now, so I'm going to work really hard to get out there as fast as possible."
More from The Jet Press
At the rate things are going, Marshall might end up being one of the best acquisitions in the history of the Jets.
His surreal skill-set and ability to keep those chains moving make him one of the biggest reasons why the Jets are able to be a contender this season.
Thankfully, Marshall escaped serious injury and won't need any surgery to repair his knee which is what many thought could initially be what was needed.
All signs point to him playing in Week 3 on the road against the Kansas City Chiefs.
Marshall might see a reduced role but make no mistake about it, will be in the lineup since he's not letting his knee hinder his ability to help this team do whatever it takes to win.
Must Read: Twitter stream of Jets vs Bills reaches amazing milestone
Overall, it's easy to see why Marshall preaches his slogan "mind over matter" since he's right. One can accomplish anything when they believe in themselves and don't let any obstacles stand in their way towards greatness.