Top 5 quotes heading into Jets vs Bills matchup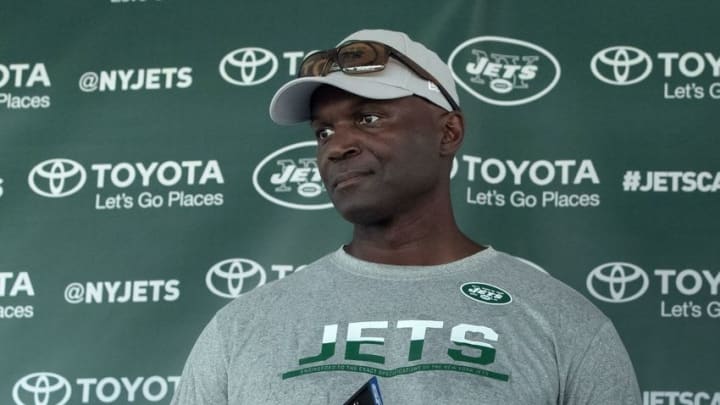 Jul 28, 2016; Florham Park, NJ, USA; New York Jets head coach Todd Bowles speaks to the media during training camp at Atlantic Health Jets Training Center. Mandatory Credit: Vincent Carchietta-USA TODAY Sports /
For tonight's Jets vs Bills Week 2 matchup, lots of folks are talking about their Week 1 loss to the Cincinnati Bengals. The Jets share their feelings about the upcoming week and a Buffalo Bill is determined to play.
jets vs bills /
Jul 28, 2016; Florham Park, NJ, USA; New York Jets head coach Todd Bowles speaks to the media during training camp at Atlantic Health Jets Training Center. Mandatory Credit: Vincent Carchietta-USA TODAY Sports
Week 1 didn't go as planned for the New YorkJets. A frustrating one-point loss to the Bengals has them going back to the drawing board. It doesn't bode well heading into tonight's Jets vs Bills Week 2 matchup.
Related Story: Jets vs Bills: Biggest x-factor of Week 2 for Gang Green
Whatever the Jets need to work on must be done quickly on a short week. Gang Green travels up to Buffalo for a Thursday Night Football matchup against the Bills.
Quarterback Ryan Fitzpatrick is looking to fight a demon in Rex Ryan and Sheldon Richardson is chomping at the bits to make his 2016 debut. Wide receiver Sammy Watkins believes he's ready to go despite a sore foot.
Let's check in with what players and coaches are saying heading into Week 2:
Next: 5. Fitzpatrick takes on Rex Ryan
Jan 3, 2016; Orchard Park, NY, USA; New York Jets quarterback Ryan Fitzpatrick (14) looks to throw a pass during the second half against the Buffalo Bills at Ralph Wilson Stadium. Bills beat the Jets 22 to 17. Mandatory Credit: Timothy T. Ludwig-USA TODAY Sports
5. "I don't know that it's necessarily his defense" – Ryan Fitzpatrick
Rex Ryan has owned Fitzpatrick lead teams since becoming a head coach in 2009. Ryan enjoys a 2-8 record over the Jets quarterback.
As per Jerry Beach of UPI.com, Fitzpatrick doesn't necessarily believe the defense is to blame for his struggles against Ryan. Instead, Fitzpatrick cites his own ability to make throws and preparing mentally as keys to a win.
Against Ryan, Fitzpatrick completes less than half of his throws and averages around 170 yards. These are well below his averages of 60 percent passing and 200 yards per game.
Fitzpatrick is coming off an up and down game in Week 1. Against the Cincinnati Bengals, he completed 19 of 35 passes for 189 yards, two touchdowns, and one interception.
Next: 4. Revis needs help on the coverage
4. "On the busted coverage, I'm supposed to get help…" – Darrelle Revis
Arguably the biggest storyline to come out of the loss to the Bengals is Revis' performance. Wide receiver A.J. Green simply owned Revis Island on Sunday.
Quarterback Andy Dalton hit Green for a 54-yard touchdown and fans were quick to heap criticism on Revis. However, as Revis correctly points out, he should've had safety help up the middle as per Rich Cimini of ESPN.com.
Revis and the rest of the secondary need to improve, especially when Week 2 includes Watkins in Buffalo. He'll make his catches, but the Jets must make him work for them.
The Pro Bowl corner says he'll be rebounding this week. On short rest and on the road, it'll take a lot for that to happen.
Next: 3. Sheldon Richardson is back and hungry
Nov 12, 2015; East Rutherford, NJ, USA; New York Jets defensive end Sheldon Richardson (91) tackles Buffalo Bills running back LeSean McCoy (25) in the 1st quarter at MetLife Stadium. Mandatory Credit: William Hauser-USA TODAY Sports
3. "It was good seeing those guys eat like that" – Sheldon Richardson
Sheldon Richardson is back for Week 2 after serving a one-game NFL suspension. He saw what the defensive line did against Dalton, and he's "hungry' for his share as per Rich Cimini of ESPN.com.
The Jets' defensive line already looks ferocious after Week 1, and the addition of Richardson makes it even scarier. The Bills' offense, after an abysmal opener, doesn't seem up to the challenge.
The return of Richardson gives the Jets plenty of options up front. He'll likely replace rookie Lawerence Thomas at defensive end.
Head coach Todd Bowles will likely stick with a similar scheme as seen in Week 1, which worked great to the tune of seven sacks. Richardson is sure to get his fair share.
Next: 2. Rivals know each other well
Nov 12, 2015; East Rutherford, NJ, USA; Buffalo Bills head coach Rex Ryan shakes hands with New York Jets head coach Todd Bowles at MetLife Stadium after Bills defeated Jets 22-17. Mandatory Credit: William Hauser-USA TODAY Sports
2. "We know each other pretty well." – Todd Bowles
The Bills owned the Jets last season. The division rival won both games against the Jets last season and cost Gang Green a spot in the playoffs.
Bowles has ample experience as head coach now against Rex Ryan as per Brian Costello of the New York Post. He understands the rivalry between the two New York-based teams. It's time to get on the board and get a win against the former Jets head coach.
Watkins isn't 100% and the Jets certainly have the defense to contain what is a less than impressive offense in Buffalo. Bowles should be able to put together a plan to take his team to 1-1.
In the end, this is a division game and even when the Jets seemed poised to win, the Bills find a way to ruin the party. As a matter of fact, the Jets have dropped the last five against Buffalo. Must win in Week 2? Maybe.
Next: 1. Watkins definitely playing
Jan 3, 2016; Orchard Park, NY, USA; Buffalo Bills wide receiver Sammy Watkins (14) gets tackled by New York Jets cornerback Darrelle Revis (24) after a catch during the first half at Ralph Wilson Stadium. Mandatory Credit: Timothy T. Ludwig-USA TODAY Sports
1. "I'm definitely playing this week." – Sammy Watkins
Watkins believes he's playing on Thursday Night against the Jets as per Josh Alper of NBC Sports. The final injury report lists him as questionable.
If there's anything to look forward to in this game, it's how the Jets contain Watkins if he does play. He's nursing a surgically repaired sore foot.
The Bills can't afford to lose Watkins for any amount of time, especially if they hope to have a shot at competing in the AFC East. The Jets won't mind either way.
must read: Jets vs Bills: Top 3 keys to victory for Gang Green
While the Jets' main concern is a win Thursday night, it'll be refreshing to see an improved performance against a top receiver.