Todd Bowles downplays training camp incident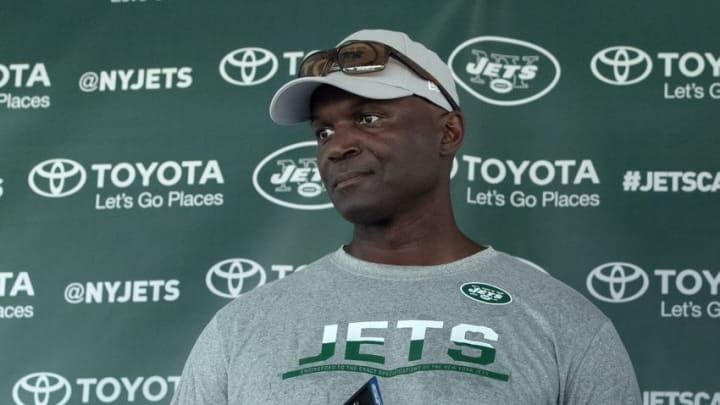 Jul 28, 2016; Florham Park, NJ, USA; New York Jets head coach Todd Bowles speaks to the media during training camp at Atlantic Health Jets Training Center. Mandatory Credit: Vincent Carchietta-USA TODAY Sports /
During training camp of the New York Jets this past Friday, an altercation occurred between Brandon Marshall and Darrelle Revis but head coach Todd Bowles downplayed the incident for what it really was.
It's around that time during the hot days of summer that training camp truly heats up. Players are battling it out for roster spots and trying to get under the skin of their competition to get the upper hand. Whether it's rookies or savvy veterans, everyone is working hard to be ready for the upcoming regular season.
Related Story: Emotions get the best of Brandon Marshall
During training camp this past Friday of the New York Jets, wide receiver Brandon Marshall punched cornerback Darrelle Revis as the two had to be separated by teammates. All eyes were on what set the two off but one has to realize as they are both elite players at their respective positions, things like this will happen thanks to their overall competitiveness.
At the end of the day, both players are professionals who put everything into their craft the moment they step foot on the gridiron. Considering both play positions that naturally go up against each other, altercations and incidents like to this magnitude tend to happen often but it was wrong for it to escalate to a player punching his fellow teammate.
Luckily for both players, no one was injured or hurt in this altercation as both sides have apparently let it go and will continue to work hard in training camp. While it never should have gotten to the point where a teammate should ever throw a punch at someone on the same team, both players know that they need to set the example. Both are leaders in the locker room and it's important to use it as a lesson to never let it get to that level again.
More from The Jet Press
Head coach Todd Bowles recently spoke about the incident and like his usual calm self, downplayed the event for what it really was.
Simply put, two veterans going at it like many others do across the NFL that didn't know when it back off.
It's important that Bowles squashed this then and there yesterday at his post-training camp press conference before it was escalated to something more than what it really was.
Thanks to the Media Relations Department of the Jets, here is what he told the media regarding this training camp incident and what he personally told both Marshall and Revis:
It was more than those two. There was a lot of chippiness going on out there. Down on offensive and defensive line, and the linebackers as well, but like I said, it's that time of camp. You hit each other for enough times, people get frustrated. We like the motivation. We like the spirit of practice, but we're not going to punch anybody. You can talk as much as you want. You're going to get that on Sundays, but other than that, it was fine.
must read: Improving communication on defense is key
Overall, this will all be forgotten over time as the Jets continue to finalize their 53-man roster. Neither player is in jeopardy of losing their starting spots or will miss any time due to injury from it as at the end of the day, it was simply two veterans trying to outdo the other on the football field.