Early fantasy football predictions for Jace Amaro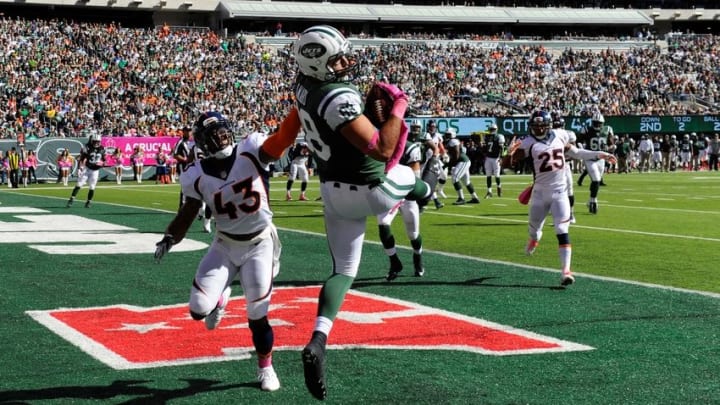 Oct 12, 2014; East Rutherford, NJ, USA; New York Jets tight end Jace Amaro (88) scores a touchdown defended by Denver Broncos strong safety T.J. Ward (43) during the first half at MetLife Stadium. Mandatory Credit: Robert Deutsch-USA TODAY Sports /
For any Fantasy Football owner looking for a possible sleeper pick at tight end, Jace Amaro of the New York Jets might be the answer you've been looking for.
For any Fantasy Football owner, the tight end Jace Amaro of the New York Jets will be someone that will keep many waiting to see how he does coming off shoulder surgery. He could be a steal for any team if he is able to be productive like he was in his rookie season, especially playing with quality talent on offense around him.
Related Story: Top 10 fantasy football sleepers for 2016
Entering his second full season with the Jets,Amaro looks to bounce back and prove people wrong. Amaro suffered a major shoulder injury during the preseason last year and it required surgery on a torn labrum in his left shoulder. The injury occurred in a preseason game against the Detroit Lions. Many predicted that Amaro would be a big part of the Jets' offense under new offense coordinator Chan Gailey.
In his rookie season in 2014, he totaled 345 total yards, 38 receptions, 9.1 average yards after the catch and two touchdowns. Opposing teams took him lightly and he made them pay. When you look at him he looks like, he should be playing on the defense side of the ball. He is compared to Rob Gronkowski for how big he is as Amaro weighs in at 265 pounds. This season presents the Jets with adding another threat on the offensive side of the ball.
Many fantasy football people wonder where Amaro will fit the best amongst the tight end position. Amaro is a quality backup to have on your team or even pick him up via waivers when he has favorable match-ups. The keyword will be if he is able to stay healthy throughout the season. A torn labrum is a surgery that a lot of athletes have trouble recovering from.
More from The Jet Press
Amaro will have a chip on his shoulder in wanting to prove people wrong and play like he did in 2014.
He could possibly be ranked in top 10 to 20 in tight ends in fantasy football currently.
He will help take the workload off from wide receivers Brandon Marshall and Eric Decker which will put him in a position to score.
It allows them to add a threat on the offensive side of the football besides one of the best wide receiving duos in the NFL.
Gailey will have to add a few more plays in his offensive playbook that will include Amaro being involved. He could a great player or at the very least a decent contributor on fantasy football this upcoming season. From the average yards after catch at 9.1 yards, he could give fantasy owners those points you would need to win in close match-ups.
Early expectations are that Amaro will be brought back very slowly, and the Jets don't want him to rush back. He will be able to ease his way back into the offense and help the Jets become a better team. Including him in the offense will make opposing defenses stay on their toes, especially once he starts to make a name for himself again.
must read: Early fantasy football predictions for Brandon Marshall
Overall, Amaro is a decent fantasy football option to consider for this upcoming season.  With Amaro entering his second season with the Jets, he will play with a chip on his shoulder and come out very focused to prove his doubters wrong. If you draft Amaro into your fantasy team, he will be a good choice as he should have a very good year with the Jets.