Jets News
New York Jets: Exclusive recap of Family Fun Day 2016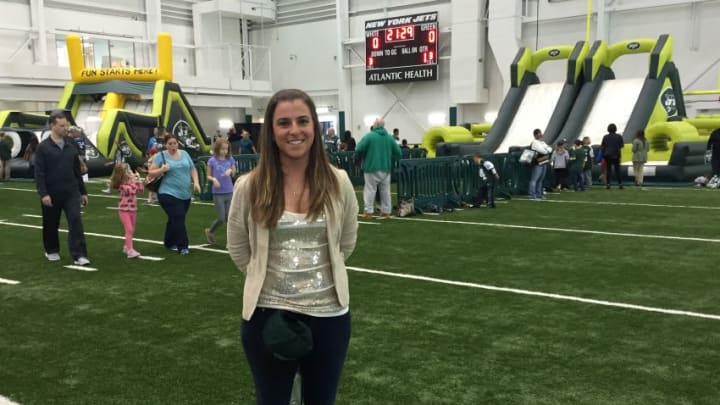 Property of Danielle McCartan at Jets Family Fun Day, used by permission for TheJetPress.com /
The New York Jets held their annual Family Fun Day for fans everywhere to enjoy a unique experience while also enjoying the 2016 NFL Draft.
On Saturday, April 30, 2016 a friend and I ventured to Florham Park, NJ, more specifically, 1 Jets Drive, to experience Family Fun Day 2016.  Immediately, upon entering, we were we were greeted, handed a map of the day's activities, and given a free Jets pennant.  With the aroma from food trucks beckoning us, we grabbed a couple of free Munchkins from the Dunkin Donuts stand, and found our way to the video game trailer.  While Jets' linebacker Trevor Reilly was competing with a young fan on one system, my friend and I played our own round of EA Sports' Madden 2015 on XBOX.
Related Story: Grading every 2016 NFL Draft pick of the Jets
Shortly after, clutching our road maps of activities, we ventured into the state-of-the-art indoor practice facility to join the Draft Day party, already well underway.  The Jets had a plethora of activities for fans of all ages.  Specifically for the kids, there were three inflatables and a GenJets kids clinic. Also, next to a pop-up merchandise store and face-painting booth, there was an area where fans of all ages could test their NFL Combine skills (broad jump, vertical jump, and quarterback toss).  People waiting in a snake line in the far corner determined that the locker room tour was an anticipated attraction.
new york jets /
Property of Danielle McCartan at Jets Family Fun Day, used by permission for TheJetPress.com
While this was all fun, here are my three highlights:
The Virtual Reality booth.  Did you know the Jets have technology where they capture 360 degree angles of each and every play at practice?  From there, the video is downloaded and, in a separate session, the players are outfitted in virtual reality goggles and sound-canceling headphones.  Players can then stop, pause and rewind the video to review coverages and better options as if it were in real-life, in every sense of the phrase.  I was able to try out the setup, myself as I experienced running out of the tunnel at a sunny MetLife Stadium with my "teammates", the crowd erupting at my entrance – all in virtual reality, of course.
The player meet and greets.  There were plenty of Jets on hand at three distinct stations to meet and greet the fans (to name a few: Calvin Pryor, Buster Skrine, Lorenzo Mauldin, Dexter McDougle, Reilly and Nick Folk).  My suggestion for next year would be to set up a station for each player – the lines to meet a group of them all at once were entirely too long an snaking throughout the entire practice field.  In this way, you could meet exactly who you want to meet (the players rotated around while you stood on line), with, presumably, a shorter line.
Of course, my favorite part was witnessing the Jets fourth round pick, announced live from the Atlantic Health Center on NFL Network by
, former Jets linebacker.  I had a front row seat – enjoy the video below:
More jets: The art of the pick block
All in all, the experience at the Family Fun Day 2016 was great, especially being able to roam around on the turf where the Jets hold their practices.  The event did an excellent job engaging fans of all ages.  On the way out, we were handed 2016 Jets Draft Day t-shirts… and I just could not resist the wear-authentic-equipment station.  Here I am, fear me, defenders!
new york jets /
Property of Danielle McCartan at Jets Family Fun Day, used by permission for TheJetPress.com