NY Jets: 3 more players who should be cut in the coming days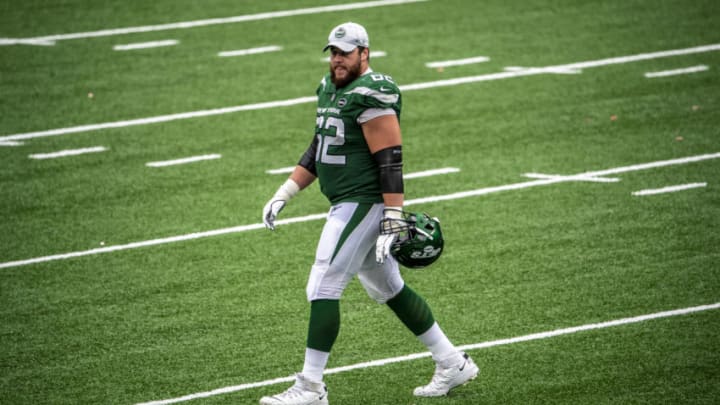 NY Jets (Photo by Benjamin Solomon/Getty Images) /
NY Jets /
NY Jets Mandatory Credit: Vincent Carchietta-USA TODAY Sports
The NY Jets have already started the process of cutting players to clear cap space. With nearly $70 million in cap space prior to cuts, the Jets already found themselves in an advantageous position.
Now after the release of veteran defensive lineman Henry Anderson, the Jets have over $76 million in cap room. And that number is only expected to climb.
The Jets are expected to be significantly more active in free agency this offseason after last year's dud of a free-agency period. While Joe Douglas' mantra has never been to build through free agency, chances are he's prepared to explore the market a little heavier this time around.
That's doubly true given the position the Jets find themselves in.
The Jets are sitting on a boatload of cap space in an offseason where every dollar matters. With the shrinkage of the salary cap for just the second time in league history, plenty of teams will be strapped for cash.
That should allow a team like the Jets to do some serious damage this offseason.
But just as every dollar matters for cap-starved teams, the same rings true for the Jets. Even with the abundance of cap space that they already have, there are still a few moves the Jets could make to save some money.
That's true even after the expected release of the aforementioned Anderson. But which other players could find themselves on the chopping block?
With an honorable mention to Jamison Crowder, George Fant, and Conor McDermott, let's take a look at three other players who should be cut in the coming days.
Next: 3. Greg Van Roten
NY Jets (Photo by Jim McIsaac/Getty Images) /
3. Greg Van Roten, OG, NY Jets
The Jets opted for a host of short-term fixes along the offensive line last offseason and while the line did improve, there were clearly a few weak spots. One of those weaknesses was at right guard.
The Jets signed veteran guard Greg Van Roten last offseason to a cheap three-year, $10.5 million contract. The Long Island native went on to start 13 games for the team at right guard, putting together a less-than-stellar season.
Van Roten finished with a below-average 63.0 overall Pro Football Focus grade and a poor run-block grade of 54.4 that ranked 57th at his position. It was a subpar year from a subpar player — pretty much what the Jets paid for.
Fortunately, the Jets structured his contract in such a way that they could get out of it after just one season with no dead cap charge. And that very well is what they might do.
Van Roten is only slated to count about $3.4 million against the cap in 2021. Not a hefty sum of money, but none of it is guaranteed, meaning the Jets could easily move on if they choose to do so.
It goes without saying that the team should and likely will look to upgrade in the offseason. And if that's the case, it might make sense to cut ties with the 31-year-old veteran.
The best chance that Van Roten has of sticking around is as a backup — an idea that makes some sense given his affordable contract.
The #Jets should consider keeping Greg Van Roten this offseason.
• Only a $3.4 million cap hit, none of it guaranteed• Solid OL depth at a relatively cheap price• Could compete with a rookie draft pick in training camp
Would be a solid 6th OL at a reasonable price.
— The Jet Press (@TheJetPress) March 6, 2021
Still, if the Jets are looking to save every dollar they can, Van Roten is a prime cut candidate.
Next: 2. Ryan Griffin
NY Jets /
NY Jets Mandatory Credit: Vincent Carchietta-USA TODAY Sports
2. Ryan Griffin, TE, NY Jets
One of the more puzzling moves that general manager Joe Douglas has made during his tenure was the three-year, $10.8 million extension he handed out to Ryan Griffin toward the end of the 2019 season.
The longtime Houston Texans tight end filled in for the sidelined Chris Herndon in 2019 and played fairly well. Still, it seemed pretty apparent that he was nothing more than a solid backup tight end — especially at 30-years-old.
Despite this, Griffin was given a three-year extension with nearly half of the contract guaranteed. Now, just one year later, the Jets are expected to cut ties.
Griffin was a complete afterthought in 2020 as, even with a struggling Herndon, he failed to make any sort of impact. The former sixth-round pick hauled in just nine catches for 86 yards — both of which were the lowest marks in his eight-year career.
It seems pretty clear that he doesn't have a role on the roster anymore. And with a new coaching staff coming in, it's highly unlikely that he returns.
Griffin is slated to have a cap hit of $3.3 million in 2020 and cutting him would come with a $1.45 million dead cap charge and an additional $500,000 in dead cap in 2022. However, the savings make it worth it.
And if they designate him as a post-June 1st cut, they could save up to $2.35 million in cap space. That's figure is likely higher than the value the new regime would place on him.
Don't expect Griffin to survive the offseason.
Next: 1. Alex Lewis
NY Jets (Photo by Jim McIsaac/Getty Images) /
1. Alex Lewis, OG, NY Jets
The Jets are likely set for a complete overhaul at the guard position this offseason after a difficult 2020 season. That could start with the aforementioned Greg Van Roten, but expect it to include left guard Alex Lewis as well.
Lewis was one of the first success stories from Douglas' tenure with the organization. Originally acquired for a conditional seventh-round pick in a trade with the Baltimore Ravens, Lewis exceeded expectations with the Jets.
He went on to start 12 games in 2019 after an injury to Kelechi Osemele and entered the 2020 season as the starting left guard. That was after receiving a hefty three-year, $18.6 million extension in the offseason.
More from The Jet Press
But much like the Griffin extension, Lewis' new deal didn't exactly work out either.
The 28-year-old started just nine games in 2020 and was average at best. His PFF pass-block grade of 55.6 ranked 52nd at his position and it's clear the Jets will be looking to do better in the offseason.
Lewis is projected to have a 2021 cap hit of $6.86 million, but could be released with a dead cap charge of just $833,000 if designated as a post-June 1st cut. That could give the Jets over $6 million in potential savings.
With players like Joe Thuney and Corey Linsley set to hit the open market, the Jets will very likely look to upgrade their interior offensive line in free agency.
That means someone like Lewis is probably a goner.