NY Jets: Will a one-year gamble on Sam Darnold be worth the risk?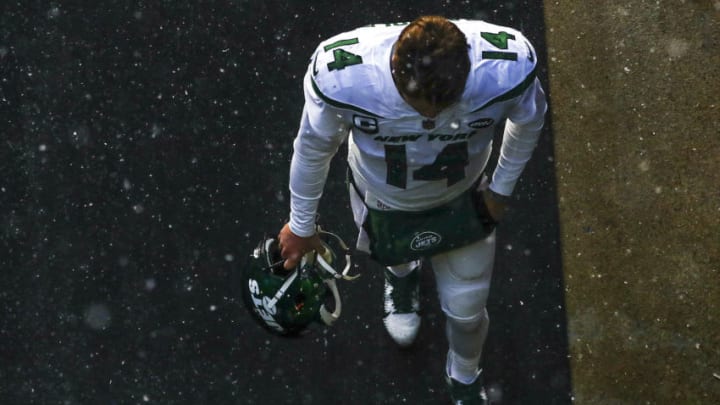 NY Jets, Sam Darnold (Photo by Adam Glanzman/Getty Images) /
The NY Jets are not going to pick up Sam Darnold's fifth-year option. General manager Joe Douglas has until May to officially make that decision, but it's a given that he won't. The question is, will Sam Darnold still be a member of the NY Jets by then?
The cost of picking up Darnold's fifth-year option would be in the neighborhood of $25 million for the 2022 season. Darnold is under contract with the team in 2021 and is slated to make $9.7 million in what would be the last year of his rookie deal.
Not only will the Jets not pick up the fifth-year option, but any team that trades for Sam Darnold won't either. The truth is that. For better or for worse, Darnold has become a reclamation project. Darnold will be playing on a one-year prove-it deal, no matter where he plays in 2021.
If the Jets decide to keep Darnold, they will effectively be putting him on the hot seat.
In effect, the Jets will be giving Darnold one last chance to prove that he is worthy of being a franchise quarterback.
Recent reports suggest that the Jets could be leaning in that direction for the 2021 season. The team has plenty of options to consider before the 2021 NFL Draft in April. Let's take an in-depth look at what they are.
Trade options for Sam Darnold and the NY Jets
In the "it takes two to tango" department, trading Sam Darnold and getting fair value in return will not be easy.
There are rumors or hopes that the return for Darnold could be a combination of draft picks, with a second-round pick as a possibility. The reality is that any team that does give up those types of resources will be doing so with the idea of Darnold being their starter in 2021.
The assumption is that a team would be willing to do that for Darnold. That's quite a leap of faith. It's a risky proposition for any NFL team to make. A franchise would be taking a one year flyer at $9 million on a quarterback who isn't the sure thing he was projected to be back in 2018.
In 2019, the Miami Dolphins tried it. They traded a second and fifth-round pick to the Arizona Cardinals for former first-round pick Josh Rosen. A year later, Rosen was third on the team's depth chart and was subsequently released.
The risk provided no reward for Miami.
Any team that trades for Darnold is taking the same risk that the Jets would be if they kept him. Back in 2018, many teams graded Darnold as one of the top-rated quarterbacks in that class.
So it's possible that one of those teams, like perhaps the Denver Broncos, who were reportedly very high on Darnold three years ago, decides to take the gamble on Sam. However, Darnold's body of work may not inspire teams like Denver to take the leap of faith.
Want your voice heard? Join the The Jet Press team!
The dream scenario for the NY Jets
Newly-hired Jets head coach Robert Saleh is expected to entrust his offense over to Mike LaFleur. The now-former passing game coordinator for the San Francisco 49ers brings with him a system that, on paper, looks like it matches up well with Darnold's skillset.
While Darnold has had his fair share of struggles passing from the pocket, his best plays with the Jets in his first three seasons in the league have come from throwing on the move. Something that is a staple of the Shanahan system that LaFleur would bring over to the Jets.
It's a similar system that Darnold showed flashes of brilliance under Jeremy Bates in his rookie season. Bates is also from the Shanahan coaching tree, and that offense is very similar to the one LaFleur will employ with Gang Green.
Sam Darnold is a fan favorite and well-liked by the NY Jets' fanbase. Even his harshest detractors would love to see the day where Darnold succeeds. A scenario where Darnold lives up to his lofty billing for New York would satisfy many.
It would also put the team in a great position to get better in a hurry, instead of using significant resources and patience to develop an entirely new quarterback. The Jets can use their draft capital to shore up other significant areas of need on the roster.
The dream scenario for the Jets would be Sam Darnold becoming the star everyone expected. The hardest thing for an NFL franchise to accomplish is finding a true franchise quarterback, someone who can carry your team for years to come and one that will make you a perennial contender.
The Jets have been in what seems like a never-ending search for a quarterback like that.
Darnold finally becoming that type of player would be a great story, and it would save the Jets from having to start all over again with an unknown at the quarterback position.
The NY Jets could hedge their bets on Sam Darnold
It's hard to imagine an outcome that sees the Jets cut Darnold outright. It would be a bittersweet end to something that showed so much promise at the outset. Drafting a quarterback with the second overall pick would seal the deal if Joe Douglas finds no takers for Darnold.
The Arizona Cardinals drafted Kyler Murray and quickly moved Josh Rosen, their former franchise QB. The Cincinnati Bengals eliminated any potential hurdles for rookie Joe Burrow to climb by cutting ties with veteran quarterback Andy Dalton.
So if the Jets draft a Justin Fields or Zach Wilson at No. 2, it's almost a given that Sam Darnold will be gone. The question is, will Joe Douglas be able to trade Darnold for value?
Trading Darnold away for anything less than a third-round pick would seem like a crime was committed against the franchise and its fanbase. It's a harsh reality that would almost certainly come to fruition if the Jets had very little cap room and no trade partners come April/May.
However, the Jets do have enough cap room to entertain keeping Sam Darnold, even if they draft a quarterback, particularly if the Jets' quarterback is not one that is selected with the second overall pick.
The scenario that hasn't been discussed on a grand scale of late is the possibility of the Jets passing on drafting a quarterback at two but still taking one with one of their top selections in the 2021 NFL Draft.
In this unlikely scenario, the Jets would give Sam Darnold a chance to revitalize his career while at the same time drafting a potential successor. It's not an entertaining possibility to explore or even endure.
The Philadelphia Eagles experimented with a similar strategy that produced mixed results this past season when they drafted Jalen Hurts in the second round.
The Eagles did it out as insurance for a player in Carson Wentz, whose biggest Achilles heel before 2020 was his inability to stay healthy. Sam Darnold has had similar issues throughout his career.
Beyond the irregular case of mononucleosis that forced Darnold to miss games in 2019, Darnold has struggled to stay healthy and on the field in his rookie year and this past season. Part of being a franchise quarterback is not only performance but availability.
Darnold has been a popular fixture on injury reports throughout his brief career, often, missing practices during game weeks. A less-than-ideal situation for offenses to have success in.
The Jets will not only be banking on Darnold's play improving significantly in 2021, but they will be gambling on his ability to stay healthy for an entire season. If the Jets bet on Darnold, they might decide to cover themselves, just in case he can't do either.
More from The Jet Press
Final Summary
Given the team's recent hire of Robert Saleh, there is new hope for the franchise that hasn't existed for a long time.
The fact that Joe Douglas chose Saleh despite never working with him has given the entire fanbase faith that their general manager will make the right decision regarding the team's future. And in this case, nothing ties more into the team's future than the decision made at quarterback.
Ultimately, whether or not the Jets retain Darnold will come down to how the team's front office and new staff feel about him moving forward. And most importantly, how they feel about the quarterbacks in this year's upcoming draft class.
There is a lot of time between now and then for Douglas and his staff to make that decision. Making the wrong call on Darnold could set the franchise back if he doesn't produce in 2021.
The combination of Darnold failing and bypassing the chance to draft a franchise quarterback in the 2021 NFL Draft would put the Jets back to square one, where they'd be starting all over again in 2022, in their never-ending search for a franchise quarterback.
The ultimate question moving forward is do Douglas, Saleh, and the franchise decide to press pause on that search? And by doing so, are they willing to gamble that they already have what they need in Sam Darnold?
The interesting thing is that the answer to that ultimate question would be crystal clear if Darnold hadn't beaten two playoff teams in Los Angeles and Cleveland to end the 2020 season. The choice for the Jets in the draft would've been made for them.
And the guy who was supposed to be the answer for the Jets franchise in 2018 is providing its biggest question for 2021.