NY Jets: Le'Veon Bell promises that 2020 will be the best year of his career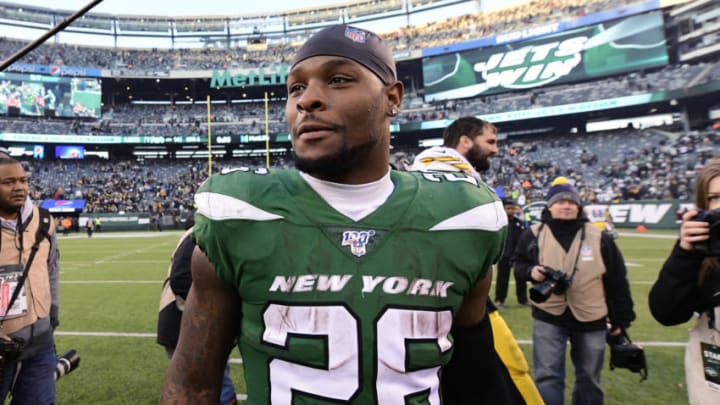 NY Jets, Le'Veon Bell (Photo by Steven Ryan/Getty Images) /
NY Jets' running back Le'Veon Bell recently vowed to make 2020 the best year of his career.
NY Jets' running back Le'Veon Bell certainly had a year to forget in his first season with the organization. But the former All-Pro back is looking to return to his All-Pro form in 2020.
In fact, he's willing to one-up that.
The leader of the Jets backfield took to Instagram a few days ago in reply to a fan who offered words of encouragement. Bell responded by declaring that the upcoming season would be the best year of his career.
Certainly bold words given the abysmal campaign he put together last season. Bell averaged a career-low 3.2 yards per carry while rushing for just 789 yards and three touchdowns.
Running behind the worst run-blocking offensive line in the NFL and being used by one of the least accomplished offensive coaching staffs in the league certainly didn't help matters.
It probably isn't a stretch to say that 2019 was the most challenging season of Bell's entire football career. But he clearly has higher hopes for 2020.
Bell's Instagram comment can be seen in its entirety below.
Jet fans will love this. @LeVeonBell promises his best year in 2020. pic.twitter.com/Wv5roTOgLg
— uSTADIUM (@uSTADIUM) July 10, 2020
Bell also commented on his disappointing season last year in an interview with ESPN's Rich Cimini published on that same day. In the interview, Bell addressed his shortcomings last season and placed the blame on himself rather than his teammates.
"Everybody talked about the offensive line and everybody talked about me not getting the ball, but, damn, Le'Veon, were you at your best? I can literally look at myself in the eye and say, 'No. No, I wasn't.'"
More from Jets News
NY Jets' running back Le'Veon Bell unsurprisingly decided to take the high road once again.
Given everything that Bell was put through last season, no one would have faulted him if he didn't shoulder 100 percent of the blame for his disastrous 2019 campaign. But Bell once again took the high road criticizing his own performance.
Bell's ability or inability to bounce back in 2020 will be one of the most crucial storylines to follow with the Jets this season. If Bell could get some help and return even close to his former All-Pro form, the Jets' offense could look very different this year.
If not and Bell's struggles continue, it's likely the last we've seen of him in a Jets uniform. In many ways, he's one of the biggest X-factors for the upcoming season.
Unfortunately, he can't do it all on his own as we saw all too often last season.
Here's to hoping that Bell gets the help he needs and that he doesn't break his promise in 2020.