NY Jets should explore tag-and-trade scenario with Robby Anderson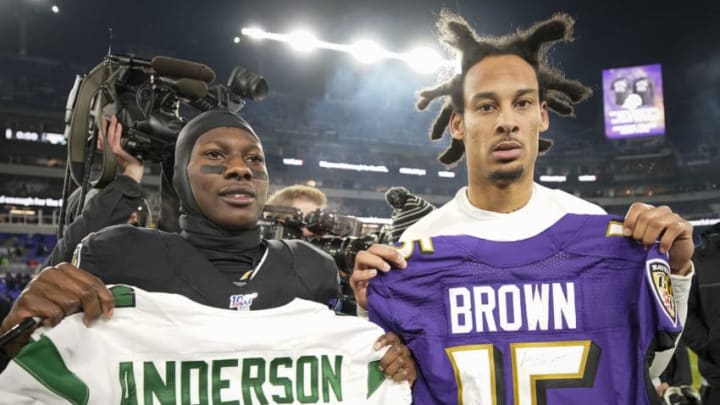 BALTIMORE, MD - DECEMBER 12: Robby Anderson #11 of the New York Jets and Marquise Brown #15 of the Baltimore Ravens exchange jerseys after the game at M&T Bank Stadium on December 12, 2019 in Baltimore, Maryland. (Photo by Scott Taetsch/Getty Images) /
The NY Jets should explore a tag-and-trade scenario this offseason with Robby Anderson. Here are the full details and what it could mean for the team.
It's becoming more and more likely that the NY Jets will lose wide receiver Robby Anderson in free agency.
Anderson is young, filled with untapped potential, and quite frankly is going to be one of the best options available on a depleted free-agent market.
While some NY Jets fans are conflicted on how much they're willing to spend on Robby, here are the facts, someone is going to make Anderson a very rich man.
In free agency, the supply of really good players is usually low and obviously the demand is very high. This formula creates an environment where players are often overpaid.
But why should the NY Jets lose him for nothing?
As it stands, if Anderson reaches unrestricted free agency and he signs with another team, the NY Jets could possibly receive a compensatory draft pick in the 2021 NFL Draft (depending on how much money they spend during free agency in 2020).
Or the NY Jets could say screw that and they can take control.
Gang Green could slap the franchise tag on Robby Anderson to control his immediate future to prevent him from reaching free agency. Then they could start negotiating with other teams to find a permanent landing spot in a "tag-and-trade" scenario.
While this occurrence is rare, it's not impossible.
As a matter of fact, three players were tagged-and-traded last year:
Jadeveon Clowney was sent from the Houston Texans to the Seattle Seahawks.
Dee Ford got traded from the Kansas City Chiefs to the San Francisco 49ers.
Frank Clark got dealt from the Seattle Seahawks to the Chiefs.
In each of those scenarios the team with the tagged player was able to flip an asset, they were going to lose anyway for a package of players and/or picks.
There would be no shortage of teams that would be interested in Robby's services: Philadelphia Eagles, Las Vegas Raiders, New Orleans Saints, and the Green Bay Packers.
In terms of a possible return package, the NY Jets should be all-in on acquiring future draft capital whether that's the 2020 NFL Draft or heck even the 2021 NFL Draft. Of course, the team would also be interested in adding players at positions of need: offensive line, edge, cornerback, and wide receiver.
Now here's the only negative with this potential option, what if a team doesn't trade for Robby Anderson? Then the NY Jets would be "stuck" with Robby Anderson on a one-year deal for around $18.5 million.