New York Jets: Which in-house free agent is most likely to be re-signed?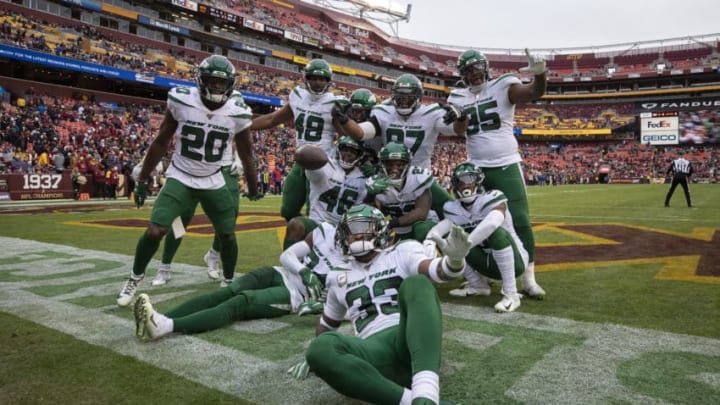 New York Jets (Photo by Scott Taetsch/Getty Images) /
The New York Jets will have decisions to make on a number of in-house free agents this offseason. But which one is the team most likely to re-sign?
The New York Jets will undoubtedly be very active in free agency this season as they look to improve upon their subpar roster. But before they get to the free agency period, they must first focus on their own in-house free agents.
The Jets will have quite a few decisions to make very soon with 22 players set to be unrestricted free agents at the start of the new league year. Only one team — the Dallas Cowboys — has more unrestricted free agents with 25 on their roster.
Numerous key players such as Robby Anderson, Jordan Jenkins, and Brian Poole are set to hit the open market and it's unreasonable to assume that the Jets will be able to keep everyone. Tough decisions are going to have to be made.
But which Jets player is most likely to be re-signed by the team?
Anderson is likely to draw the most interest on the open market. The speedy wideout is looking to make upwards to $12-15 million per year which is expected to be more than the Jets are willing to pay.
Given his rising market, don't expect Anderson back in green and white next season.
On offense, the Jets will also have to make a decision on a few players who spent a good portion of the year starting on the offensive line. The most prolific of these players is left tackle Kelvin Beachum who has spent the last three seasons protecting the Jets' blindside.
Beachum is a solid, reliable starting tackle and the Jets will definitely have interest in bringing him back. The team would obviously like to upgrade long-term but it's unreasonable to expect every spot on the offensive line to be changed in one season.
The Jets will explore their options with Beachum, but it's probably around a 50/50 chance that he's back in 2020.
Elsewhere, players like Brandon Shell, Alex Lewis, and Tom Compton will also be free agents this March. Shell is almost certainly a goner but don't be surprised if the Jets look to bring back Compton and/or Lewis who played well when forced into starting action.
More from The Jet Press
Out of all three, Lewis is probably the most likely to return as he was a Joe Douglas acquisition and is well-liked by the coaching staff. Don't be surprised if Lewis is your Week 1 starter at left guard next season.
On defense, the Jets will have a few difficult decisions to make as well in regards to outside linebacker Jordan Jenkins and slot cornerback Brian Poole.
Jenkins has been a steady presence for the last four years filling his role as a reliable edge defender and average pass rusher. But there's no guarantee that Jenkins is back with the Jets in 2020.
He'll likely be looking for somewhere close to $8-9 million a season and the Jets might view that to be too high for a complementary piece like Jenkins. There's still a decent chance that he's back, but the Jets could go in a different direction if they choose.
Poole, however, is probably the most likely to be back.
The 27-year-old put together a career year in 2019 playing on a dirt-cheap one-year, $3 million contract. After a few years of diminishing play in Atlanta, Poole developed into one of the Jets' most consistent players last season.
He'll draw some interest, but expect the Jets to do everything they can to avoid letting him hit the open market.
A few other in-house free agents who stand a good chance of returning in 2020 include players like punter Lachlan Edwards, linebacker Neville Hewitt, and running back Bilal Powell.
But if you were to make a wager, your best bet would be to count on Poole being back with the New York Jets in 2020.