New York Jets blow fourth quarter lead and fall to the Buffalo Bills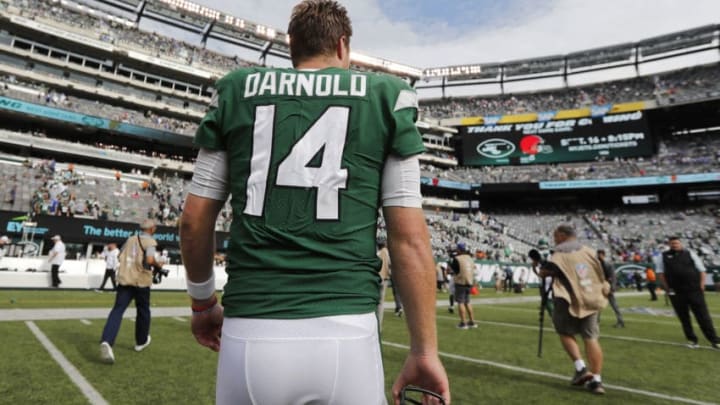 New York Jets (Photo by Michael Owens/Getty Images) /
The New York Jets lost a devastating Week 1 matchup to the Buffalo Bills by a final score of 17-16. It was a complete fourth-quarter meltdown for everyone involved.
The New York Jets have begun their 2019 season in typical Jets fashion. And personally, I hate that phrase as every season hosts a new team and a new roster.
But it's hard to classify what we just saw as anything other than that.
The Jets' offense looked anemic for pretty much the entirety of the game with little spark from the passing game and ineffective playcalling. New York failed to capitalize on four Buffalo turnovers and paid the ultimate price for it.
Leading 16-3 going into the four quarter, all the Jets offense had to do was step up, drive down the field, and score points. They failed to do so, and the defense finally folded once C.J. Mosley went down.
Want your voice heard? Join the The Jet Press team!
It was a lackluster showing from the offensive line which looked like a unit that had never played together in a game before. That's probably because that's exactly what they were.
The offensive line's struggles undoubtedly limited the playcalling options, but it's safe to say that the offensive gameplan needs a ton of work.
While Jamison Crowder had himself quite a game finishing with a whopping 14 catches for 99 yards, the Jets failed to get either Quincy Enunwa or Robby Anderson involved in the offense. Enunwa finished with just one catch for -4 yards while Anderson's three catches netted just 23.
Going forward, the Jets would be better off utilizing the intermediate passing game more than they did. Too often the team was dinking and dunking underneath to the likes of Crowder and Le'Veon Bell.
Increased chemistry from the offensive line should allow them to do that, but you would've liked to see the Jets open up the playbook more in Week 1.
That said, Bell is just as good as advertised as the superstar running back totaled 92 scrimmage yards including a receiving touchdown and a two-point conversion score.
Gase clearly tried to get Bell the ball a lot and it certainly worked, but again, the team mustn't be over-reliant on getting him and Crowder the football. Get Anderson involved. Get Enunwa involved. Heck, get Ty Montgomery involved.
On defense, the team's front-seven looked strong but faltered late once Mosley went down with a groin injury. The former Baltimore Ravens linebacker was a menace all over the field forcing two turnovers including a pick-six early in the first quarter.
More from Jets News
But if Mosely is forced to miss any significant time, the Jets could be in a world of trouble.
The one evident weakness on defense came with the Jets' cornerbacks — not exactly a surprise. While Brian Poole did a nice job covering Cole Beasley, John Brown torched the team's outside corners for 123 yards on seven catches.
If Trumaine Johnson and Darryl Roberts had this much difficulty covering Brown, the Jets are going to be in bad shape when they take on the likes of Odell Beckham, Antonio Brown, Alshon Jeffery, and Amari Cooper in the coming weeks.
But while all of those remain issues, perhaps the most unfathomable problem with the team continues to be the disastrous kicking situation. Kaare Vedvik was claimed off waivers to be the Jets kicker in Week 1 and his NFL debut went about as poorly as expected.
More from The Jet Press
The rookie missed his only extra-point attempt and failed to connect on a 45-yard field-goal attempt. His play was so bad that the Jets opted to go for two at a point rather than attempt another extra-point.
Chandler Catanzaro was not the answer. Neither was Taylor Bertolet. And now it appears that Vedvik will make it 0-for-3. The Jets need to find an answer at the kicker position — and they needed to do that months ago.
Next week, the Jets will take on a Cleveland Browns team who struggled mightily in Week 1. However, the Browns have a more talented roster than Buffalo which could make things difficult for a Jets team looking to rebound.
Things will need to improve, but for now, the phrase "same old Jets" has never been more applicable.