Will next Jets GM get full roster control?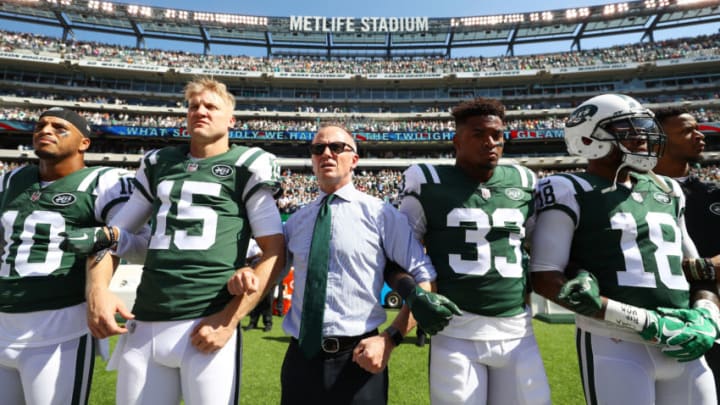 EAST RUTHERFORD, NJ - SEPTEMBER 24: Jermaine Kearse #10, Josh McCown #15, Jamal Adams #33, ArDarius Stewart #18 and Christopher Johnson CEO of the New York Jets stand in unison with his team during the National Anthem prior to an NFL game against the Miami Dolphins at MetLife Stadium on September 24, 2017 in East Rutherford, New Jersey. (Photo by Al Bello/Getty Images) /
The New York Jets are looking for a new general manager, but how much control will Mike Maccagnan's replacement have over the final roster?
Considering the power struggle that led to Maccagnan getting fired just months after the hiring of new head coach Adam Gase, it's safe to assume Gase would have some influence over who becomes the next GM.
But will that influence extend to how his roster is put together?
For example, the latest report involving one of the Jets' top targets for the new position, Philadelphia Eagles Vice President of Player Personnel Joe Douglas, indicates this particular issue could be a sticking point.
According to Sports Radio WIP's Howard Eskin, Douglas and the Eagles would scuttle his candidacy if he doesn't get full control of the roster:
Adding to a report @RapSheet the #Jets have asked for permission to talk with #Eagles VP of player personel for their GM opening. I'm told unless Jets give Douglas final say on players the Eagles would not let him go and Joe Douglas would not take the job. @SportsRadioWIP
— Howard Eskin (@howardeskin) May 24, 2019
Last week, Gase told the media that the new general manager will indeed have control of the roster:
Whoever is getting hired is going to have the same role — control of the roster, control of the 53. I will coach the football team. That's what I'm going to do. Nothing is changing in that structure.
It would obviously make more sense to give the new general manager that full power, rather than letting a head coach who was just fired from another AFC team exert influence over roster decisions rather than focusing purely on his coaching responsibilities. While many coaches have coveted decision-making power when it comes to roster building, few have proven to be up to the task.
It's certainly possible Gase could be the exception to the rule, but nothing he's done in his career up to this point suggests he's ready nor deserving of that kind of confidence.
The Jets will be better off letting the new general manager have complete roster control, especially if Douglas is their top target.