New York Jets Christmas Guide: 10 must-have Jets presents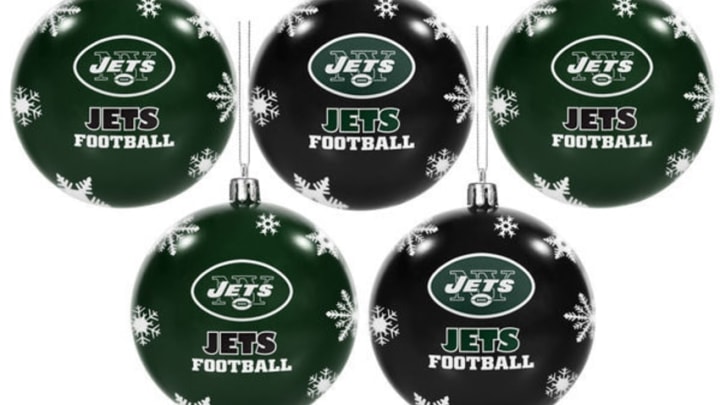 Photo Credit: Fanatics /
It's finally December NFL fans, which means you need to know the latest and greatest gift ideas. Here are 10 Jets presents you should buy now.
There's no doubt about it, the New York Jets have had a tough season in 2017; however, that doesn't mean every fan needs to be feeling the Christmas blues. Make yourself feel better and get caught up on all the latest and greatest New York merchandise. That said, take a look at the ten best Gang Green gifts you need to buy this season (and see more over at Fanatics).
Photo Credit: Fanatics
Joe Namath New York Jets NFL Legends POP Figurine
Chances are, you know someone who's into the POP figurine craze of 2017, which makes this a perfect gift for Christmas. Not to mention, if they just happen to be a fan of the Gang Green, it makes this gift even better. All kidding aside, this Joe Namath figurine would be a fantastic gift for any New York football fan this year.
Photo Credit: Fanatics
New York Jets 2018 22″ x 17″ Desk Calendar
With 2018 coming in just a few short weeks, you need to be equipped with the correct calendar for the new year. Plus, with this Gang Green-inspired office supply, you'll be able to show-off your love for New York football. Don't wait, because January will be here very soon.
Photo Credit: Fanatics
New York Jets Four-Pocket Apron
Regardless of whether you're having a Christmas party this month, every great cook needs an apron with their favorite football team's logo on it. That means you have no excuse to not this gift to that special chef this holiday season, especially if they love New York football as much as you do.
Photo Credit: Fanatics
New York Jets 5-Pack Shatterproof Ball Ornaments
Sometimes, Christmas tree ornaments make great gifts for colleagues and friends. Not to mention, when those same people are die-hard Gang Green fans, NFL ornaments end up being the perfect choice. Don't wait, as those holiday parties will be here before you know it.
Photo Credit: Fanatics
New York Jets Clear Football Bank
If you're anything like me, you're always losing the extra change in your pockets. Sometimes it gets set on the kitchen counter, but most of the time, it ends up completely lost. If you're a New York fan and you hate losing money, buy this awesome Jets football bank ASAP.
Photo Credit: Fanatics
New York Jets Art-Glass Horizontal Picture Frame
More than likely, your favorite football memories have come when you've been at a Gang Green football game with your family or friends. If that sounds like you, then this sweet picture frame is definitely a no-brainer for Christmas. Who doesn't love to commemorate their favorite sports memories with even more football-related things?
Photo Credit: Fanatics
New York Jets TV Trays with Stand
When it's Sunday afternoon and New York football is on TV, no one is eating lunch at their kitchen table. However, that doesn't mean the snacks and sandwiches are put away, it just means that we're eating in our laps. That said, you can easily fix that problem buy purchasing these Jets TV trays.
Photo Credit: Fanatics
New York Jets Tervis Tumbler 6oz Sippy Cup
If you have a little one running around the house, chances are, they need a Jets-inspired sippy cup. Plus, when you buy them one made buy Tervis, you can be assured you bought them a quality product. That said, no matter what holiday you celebrate this December, this Jets tumbler is the perfect choice.
Photo Credit: Fanatics
New York Jets Video Chair with Bluetooth – Green
Attention all gamers who love New York football, Fanatics has the greatest video chair on the market. Not only does it have the Jets logo on it, but there are two speakers built into it for the best experience imaginable. What's better than that?
Photo Credit: Fanatics
Joe Namath New York Jets Mitchell & Ness 1968 Retired Player Vintage Replica Jersey – Green
I'm not gonna lie, it's going to be a tough sell to get someone to buy a jersey of anyone on the Jets 2017 roster. That said, I guess it's a good thing New York fans get to call Joe Namath one of their own. If you buy this awesome jersey, I can guarantee you will never regret it.
If you find yourself wanting to buy even more New York gear heading into the holidays, be sure and check out Fanatics full collection of Jets merchandise here.