A big story this NFL season has been the gaudy numbers that New England Patriots WR Wes Welker has been putting up. Prior to yesterdays Patriots vs. New York Jets game, Welker had 40 catches for 600 yards, so you can imagine the Jets would want to make sure that Welker didn't do the same against them.
Well he didn't; but he did.
Containing him for most of the game, the Jets coverage had a brain freeze in the second half and allowed Welker to beat a zone coverage for a 73 yard pass and catch. The eventual Patriots touchdown would be the difference in the 30-21 victory over the Jets.
"One thing is we didn't want Wes to beat us this week but he did come out with some big plays," said cornerback Darrelle Revis, the anticipated CB on Welker.
Welker would finish with five catches for 124 yards. Without the big play, it was 4 catches for 51 yards. According to ESPNBoston.com, Revis covered Welker on 42 plays and held him to two catches for 77 yards, with 73 of those yards coming on that zone scheme.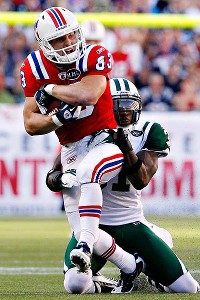 David Butler II/US Presswire
"We tried to switch it up on him a little bit," Revis said of the coverage against Welker. "I was on him a couple of times, in zone a couple other people were on him, Kyle Wilson, Donald Strickland. We tried to give him a mixture of things. He made a couple great plays today, especially the big one. Overall, it didn't look like he had a 216-yard game as he usually does."
No he didn't; but he did set up his team for the victory. Something Welker surely is happier about.
Tags: Darrelle Revis Jets Patriots Kyle Wilson Patriots Welker Revis Wes Welker