Here's a reprint of a story from Rich Cimini and ESPN New York. It's about Aiden Binkley, a 11 year old from Queens, NY, who passed away last week from cancer. Apparently the young man and New York Jets QB Mark Sanchez developed a friendship and Sanchez remembered Binkley on the radio this week.
FLORHAM PARK, N.J. — Mark Sanchez went to work Tuesday, preparing for a big football game. Some 40 miles away, a little boy from Queens, N.Y., was buried — a friend of the New York Jets quarterback.
Sanchez and Aidan Binkley, 11, met each other only a few weeks ago, but they became fast friends. Binkley was suffering from a rare form of cancer, and he had only two wishes — he wanted his two brothers to stay healthy and he wanted to meet Sanchez.
And so he did.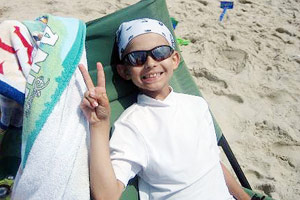 Courtesy of the Binkley familyAidan Binkley's dream was to meet Mark Sanchez and the Jets. He got his wish.
Aidan visited the Jets' training facility Dec. 15, and he received the VIP treatment, as if he were a big-name player making a free-agent visit. He watched practice and was escorted to owner Woody Johnson's second-floor office, where he met Antonio Cromartie, Dustin Keller, Mike Devito and others.
And, finally, Sanchez. The people who were there say Aidan's face lit up like Broadway at night.
"Nothing meant more to him than coming here and meeting Mark and meeting the Jets," Keller said quietly Wednesday in the Jets' locker room. "Great kid … a tough situation."
The 24-year-old quarterback was immediately taken by Aidan and his upbeat personality and his love of the Jets. A few days later, Sanchez & Co. beat the Steelers in Pittsburgh — the biggest win of the season — and Sanchez sent his new friend a game ball.
Sanchez was deeply touched by Aidan, who battled rhabdomayosarcoma, according to a 2008 New York Daily News article. There was a lemon-sized tumor that spread from his pelvis to his lungs, and he required 60 weeks of chemotherapy.
The celebrity quarterback and his new friend became texting buddies and, one day, he surprised Aidan by showing up at his house. The boy was sleeping when Sanchez arrived, but Sanchez stuck around until he woke up. They ended up having a long conversation, like a couple of old friends. To this day, Sanchez and Keller still wear the green silicone bracelets that Aidan gave them.
"My man, Aidan … breaks my heart," Sanchez said Tuesday during his weekly spot on "The Michael Kay Show" on 1050 ESPN Radio. "He's so tough."
Sanchez, choked with emotion, paused several times as he talked about Aidan, whom he met through the Teddy Atlas Foundation. Atlas, the boxing trainer and ESPN analyst, was a Jets special assistant under former coach Eric Mangini. (Continue Reading)
Tags: Espnny Mark Sanchez Rich Cimini